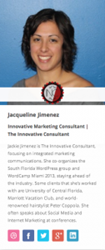 Boca Raton, Florida (PRWEB) November 07, 2013
During Miami's largest Marketing and Tech conference this year, Jackie Jimenez from Innovate WP and Karla Campos, Founder of Social Media Sass, are speaking this Friday November 8th at WebCongress Miami. These Marketing Consultants are covering a 2 hour workshop - Content Marketing from 4:30-6:30PM at Venture Hive Miami.
Bringing an Integrated Marketing background, Jackie Jimenez from The Innovative Consultant, will be joining Small Business Influencer Award Winner Karla Campos, Founder of Social Media Sass. Both ladies have a legacy of speaking together, most recently at the Niche Parent Network & Conference 2013 and WPMIA - South Florida WordPress Meetup Group.
At WebCongress Miami, Jackie Jimenez and Karla Campos will be presenting how to integrate content into a business marketing strategy. This will include social media branding, press release writing, email marketing, photo and video content creation - all how to integrate into WordPress sites. The presentation outline can be found at WebCongress Miami 2013: Workshop Content Marketing.
Attendees will receive a Workshop certificate and will learn actionable items to implement into their online marketing strategy. They will gain knowledge in producing quality content online and best times to post on their website, blog, or social networks. It's time to integrate marketing into WordPress.
About WebCongress Miami: WebCongress is a tech event organized each year for startups, entrepreneurs & businesses talking about latest digital trends, social media, mobile & online marketing. You'll learn and get inspired by conferences, workshops and networking. This is the chance to meet all the important players of the technology scene and do business with them. Among the speakers are leading companies such as Blackberry, AOL, CNN and GH Capital Partners sharing unique insights and key experiences. To register, go to WebCongress.com/Miami.
About The Innovative Consultant and InnovateWP: Jackie Jimenez is The Innovative Consultant, launching Innovate WP. Learn How to Build an Effective Website through Webinars, 1 on 1 trainings, and In-Person Seminars. #InnovateWP Is Powered by The Innovative Consultant, Jackie Jimenez. Providing Marketing Services to increase traffic online, effectively, and so innovative. For more info and to contact, go to http://InnovateWP.com.
About Social Media Sass: We are a social media and digital marketing agency in Florida. Small Business Influencer 2013 People's Choice #1 in Experts. We make your social media rock. We know the ins and outs of what is needed for a business to be successful online, especially when it comes to social media. Things change constantly in the online world and we work diligently to keep up to date with those changes. For more information, visit http://SocialMediaSass.com.
About Miami Public Speakers - Miami Public speakers is a speakers bureau that represents local, national and global speakers. Our mission as a speaker's bureau is to help you find the public speaker that best meets your needs. Miami Public Speakers is endorsed by Florida Public Speaking and has built a reputation of delivering speakers that are huge hits at events. Contact us at 305.766.2631 or find us online at http://www.miamipublicspeakers.com.