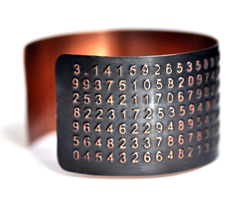 The 314 Digits of Pi cuff...represents my work perfectly—a little bit geeky, a little bit different, linear and graphic.
Chicago, IL (PRWEB) July 23, 2014
Karla Wheeler of Karla Wheeler Design (http://www.KarlaWheelerDesign.com) will showcase her handcrafted, etched cuff bracelets at GBK's 2014 Primetime Emmys Celebrity Gift Lounge, in association with The Artisan Group®. The by-invitation-only Gift Lounge takes place August 22-23 at an exclusive location in Beverly Hills, California.
Jewelry artist and company founder Karla Wheeler has selected some of her best-selling designs to display at this much-anticipated pre-award show event, including her distinctive copper Pi Cuff, etched with 314 digits of Pi; a copper Paisley Cuff, etched with an intricate paisley design; and a Mod Etched Brass Cuff, featuring squares, rectangles and dots.
The Digits of Pi Cuff will be included in The Artisan Group's coveted black swag bag, where recipients will find it tucked inside a Karla Wheeler Design branded cotton drawstring bag. According to Karla, the Pi Cuff was designed to attract those looking for unique, graphically striking jewelry. It also appeals to all who love math and science.
About the decision to gift the Pi Cuff, Karla says, "This cuff is one of my signature pieces. It represents my work perfectly—a little bit geeky, a little bit different, linear and graphic."
Karla Wheeler's etched cuff bracelets can be purchased online at KarlaWheelerDesign.etsy.com. Her jewelry is also available at Lillstreet Art Center in Chicago (lillstreetgallery.com), Museum of Math in New York City, New York; Project M Boutique in Milwaukee, Wisconsin, D2E Gallery and Gifts in Crown Point, Indiana and Mental Floss (mentalfloss.com). Retail prices range from $60.00 to $210.00.
Karla is an accomplished metalsmith. She creates every day and statement jewelry that is quirky, young in spirit and directed to those looking for geeky cool adornments. At the same time, her pieces incorporate proven aesthetic principles that ensure they can be worn for years to come—what she calls, "classic with a twist". Of her design process she says, "I tend to just start making, and see what happens. I only plan things out to a certain extent; I like to see where the metal and stones can take me."
Karla is a member of the Etsy Metal and Artisan Groups and teaches workshops in resin and metal smithing at Lillstreet Art Center in Chicago (http://www.lillstreetartcenter.com). Her work has been featured in Wired Magazine, Cool Mom Tech, Women You Should Know, World Science Fair and Mental Floss.
Karla Wheeler Design has been named as "One of Chicago's Best" on Refinery29.com and Karla was selected as an Etsy emerging artist at the Chicago 2010 One of a Kind show.
For more information on Karla Wheeler Design visit KarlaWheelerDesign.com. For more information on The Artisan Group®, visit theartisangroup.org.
This event is not affiliated with the Primetime Emmy show; Karla Wheeler Design is not in any way affiliated with the Academy of Television Arts & Sciences.
About Karla Wheeler Design
Everyone should have one piece of jewelry that is special to them, whether it is a Pi cuff, a large custom binary code etched bracelet, a statement ring for special occasions, or a necklace that is worn every day. If Karla Wheeler (http://www.karlawheelerdesign.etsy.com) can create those pieces for someone, she is happy. Karla is a proud member of the EtsyMetal Team and The Artisan Group®.