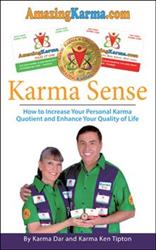 "We are constantly bombarded with negativity," the authors said. "Through our book and our website, we want to encourage people to look for the good that is really all around them instead of hiding under a hail of bad news."
LOS ANGELES (PRWEB) December 14, 2016
Karma Dar and Karma Ken Tipton would like to encourage people to simply do the right thing, take personal responsibility for their actions, make amends and move ahead. These objectives prompted them in writing "Karma Sense: How to Increase Your Personal Karma Quotient and Enhance Your Quality of Life" (published by LifeRich Publishing).
This book discusses 101 ways to increase everyone's karma quotient in their daily life, improving the lives of others and themselves. It is based on the nonreligious concept of "What goes around comes around." The Tiptons offer suggestions for positive interactions with family, friends, community and even pets. It details the basic fundamentals they have used successfully over the years to enhance quality of life. It shows how, one gesture at a time, one will become a better person with great karma, and one will transform one's life.
"We are constantly bombarded with negativity," the authors said. "Through our book and our website, we want to encourage people to look for the good that is really all around them instead of hiding under a hail of bad news."
Through the publication of "Karma Sense," the authors hope readers will realize that it is a lot easier to accumulate good karma than most people think.
"Karma Sense"
By Karma Dar and Karma Ken Tipton
Softcover | 5 x 8in | 96 pages | ISBN 9781489709028
E-Book | 96 pages | ISBN 9781489709011
Available at Amazon and Barnes & Noble
About the Author
Karma Dar and Karma Ken Tipton have worked in Hollywood a combined 62 years. They are award-winning independent filmmakers, business entrepreneurs and founders of independent filmmakers, business entrepreneurs and founders of AmazingKarma.com. They live in Toluca Lake.
LifeRich Publishing, the strategic publishing partnership of Reader's Digest and Author Solutions, LLC, was created to provide all writers a platform for sharing their stories, recipes, advice and more. LifeRich authors will benefit from a wealth of editorial design, marketing and education resources, specially created by Reader's Digest editors for the enrichment of these LifeSmart individuals. Books can be published in print, ebook or audio formats, with additional distribution to up to 25 million Reader's Digest customers through its online properties. Follow @LifeRichPub on Twitter or "Like" us at facebook.com/LifeRichPublishing for the latest updates.