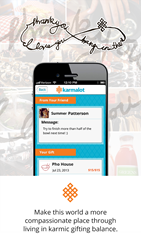 Karmalot manages the reciprocity in a discrete fashion so only you, as a user, would know what the tally is.
San Francisco, CA (PRWEB) November 12, 2013
Karmalot, a micro-gifting platform, creates the electronic gifting ecosystem in which users are encouraged to maintain gifting equilibrium with one another, with a feature called Karma Count that keeps track of the gifting exchange using a unique point scale. Similar to other gifting apps, Karmalot allows Facebook friends to send and receive gift cards ranging from large brand companies to local businesses. What sets Karmalot apart from other gifting apps is Karmalot's Karma Count feature, which actually fosters this casual and micro-gifting behavior. By giving users the ability to tally up how much they have given out and received for each of their friends, Karmalot hopes to encourage people to keep giving to one other.
Here's how the Karma Count feature works: When purchasing a gift card, the total amount spent translates into Karma Points, earning the user 1 karma point per $1 spent. On the other hand, when a user receives a gift card through Karmalot, 1 karma point will be deducted for every $1 of the gift card amount they received. Karmalot automatically tallies up the total karma points for the user as well as karma points related to each friend.
Karma points reward the user for giving and provide a reminder to repay someone's generosity with deducted points. Co-founder, Zeo Solomon provides an example, "Imagine there is a baby shower coming up for a work colleague, and you just can't remember what gift this person gave you when they came to your birthday party. It might be awkward to give too little or too big a gift, creating an imbalance in your relationship." Karma Count will solve this problem, allowing you to go back into your account and checking your karma points. Co-founder, Amir Razmara, shares, "Karmalot manages the reciprocity in a discrete fashion so only you, as a user, would know what the tally is."
Employing the natural reciprocity of gifting, Karmalot's founders strive to create a mobile gifting ecosystem in which happiness doesn't result from what we get but from what we give.
Karmalot
Karmalot's service is created and delivered by 10 employees and includes 128 businesses nationwide. To find out more, please visit http://www.karmalot.com or download the free iOS application.