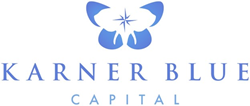 "By identifying those companies that are leading their industries with respect to nature-positive policies and practices, Karner Blue Capital seeks to harness finance as a force for good and lay the foundation for a more sustainable and resilient society."
BETHESDA, Md. (PRWEB) October 25, 2022
Karner Blue Capital (Karner Blue), a woman owned and led, Certified B Corporation announced today that its flagship nature-based strategy, the Karner Blue Biodiversity Impact Fund [KAIBX], placed in the top quartile out of 304 mutual funds in the Global Large-Stock Blend Category for the three-year period ended September 30, 2022, which resulted in a 4-Star Overall Morningstar RatingTM and a 4-Star 3-Year Morningstar RatingTM based on risk-adjusted returns.
Drawing upon its proprietary research, Karner Blue's mutual fund offers a pioneering investment strategy that seeks to earn competitive returns by investing in publicly-traded companies that are industry leaders in minimizing their nature-based risks and dependencies, or that implement innovative business practices to mitigate, conserve, or restore nature through their operations.
"We are thrilled that our KAIBX strategy has received a four-star rating. This rating is a milestone achievement and a strong recognition of Karner Blue's value proposition and highly disciplined approach," stated Vicki Benjamin, Karner Blue CEO and Co-Founder. "We are proud of the accomplishments of the Karner Blue team and equally proud to provide the Fund's shareholders with an investment vehicle that enables them to do well while doing good."
Benjamin explained that this is a very meaningful time for Karner Blue's Biodiversity Impact Fund to achieve this milestone, as it coincides with the important work being done by the Convention on Biological Diversity in preparation for its Montreal conference this December during which a new post-2020 Global Biodiversity Framework will be introduced to halt biodiversity loss by 2030 and achieve recovery by 2050.
"We need to halt nature loss this decade and participants in the capital markets need to lead the way. Businesses in the infrastructure, agriculture, and extractives industries adversely impact nature through both land use change and climate change and together are responsible for nearly 80 percent of nature loss," Benjamin continued. "By identifying those companies that are leading their industries with respect to nature-positive policies and practices, Karner Blue Capital seeks to harness finance as a force for good and lay the foundation for a more sustainable and resilient society."
Karner Blue also announced that the Karner Blue Biodiversity Impact Fund is now available for investment through the Mutual Fund Window of the federal government's Thrift Savings Plan.
"Our goal is to provide sustainable and responsible investment products that enable investors who care about the future health of our planet to align their investments with their values," said Andrew Niebler, Karner Blue EVP and Co-Founder. "We are excited that Thrift Savings Plan participants now have the opportunity to consider how the companies they are invested in can help spur the fundamental business transformations that will be critical to addressing the planet's biodiversity and climate change crises."

For more information about the nature-focused investment strategy of the Karner Blue Biodiversity Impact Fund view the Fact Sheet, Prospectus or the Fund's 4-star Overall Morningstar RatingTM or visit the Fund website at https://biodiversityimpactfund.com.
For more information about the Thrift Savings Plan Mutual Fund Window view the Mutual Fund Window Fact Sheet.
Visit us at http://www.karnerbluecapital.com and on Facebook, LinkedIn, Instagram and Twitter.
About Karner Blue Capital
Karner Blue Capital (KBC) is an SEC-registered investment adviser, Certified B Corporation, and signatory to both the United Nations Principles for Responsible Investment and the Finance for Biodiversity Pledge. KBC's ESG investment strategies are centered around the protection of our planet for future generations with a specific focus on preserving biodiversity, promoting environmental stewardship and improving animal welfare. We use proprietary research and company benchmarking to identify and invest in forward-looking companies that are leading their respective industries with respect to the treatment of animals and the protection of natural animal habitats, as these are key but often overlooked components in the fight to ensure the continued health and vitality of our planet. KBC's objective is to provide sustainable and responsible investment products that enable investors who care about the treatment of animals, the degradation of their habitats, and the planetary risks posed by biodiversity loss to align their investments with their values.
Karner Blue Capital, LLC ("KBC") is an investment adviser registered with the Securities and Exchange Commission. Registration does not imply a certain level of skill or training. There is no assurance that any KBC strategy will achieve its investment objective. Investing in accordance with any KBC strategy involves risk, including the possible loss of principal invested. This material is for educational purposes only and does not constitute general or personal investment advice or an offer to buy or sell, or a solicitation of an offer to buy or sell, any security. This material may present an assessment of the market environment at a specific point in time and is not a forecast of future events or a guarantee of future results. An investor should obtain current information, perform due diligence, and consider the risks before making any investment. Past performance is not a guarantee of future results.
Certified B Corporation is a designation awarded by B Lab to entities that are accelerating a global culture shift to redefine success in business and build a more inclusive and sustainable economy. By harnessing the power of business, B Corps use profits and growth as a means to a greater end: positive impact for their employees, communities, and the environment. KBC is a 2019 and 2021 Best Company for Customers Certified B Corp, which are those companies deemed to have significant and positive impact on their customers through the services they provide by scoring in the top 10% of the Customers portion of the B Impact Assessment. KBC's status as a Certified B Corporation is not indicative of the future performance of the Fund.
Investors should carefully consider the investment objectives, risks, and charges and expenses of the Karner Blue Biodiversity Impact Fund before investing. The prospectus contains this and other information about the Fund, and it should be read carefully before investing. For most recent month-end performance information or to obtain a prospectus, visit https://biodiversityimpactfund.com or call 1-855-KBANIML (855-522-6465). Companies that KBC has identified as having integrated biodiversity, climate change or animal welfare considerations into their business operations may underperform relative to companies that do not engage in such activity and there is no guarantee that such companies will be able to generate long-term total returns.
© 2022 Morningstar. All Rights Reserved. The Morningstar information contained herein: (1) is proprietary to Morningstar and/or its content providers; (2) may not be copied or distributed; and (3) is not warranted to be accurate, complete or timely. Neither Morningstar nor its content providers are responsible for any damages or losses arising from any use of this information. Past performance is no guarantee of future results.
The Morningstar Rating™ for funds, or "star rating", is calculated for managed products (including mutual funds, variable annuity and variable life subaccounts, exchange-traded funds, closed-end funds, and separate accounts) with at least a three-year history. Exchange-traded funds and open-ended mutual funds are considered a single population for comparative purposes. It is calculated based on a Morningstar Risk-Adjusted Return measure that accounts for variation in a managed product's monthly excess performance, placing more emphasis on downward variations and rewarding consistent performance. The Morningstar Rating does not include any adjustment for sales loads. The top 10% of products in each product category receive 5 stars, the next 22.5% receive 4 stars, the next 35% receive 3 stars, the next 22.5% receive 2 stars, and the bottom 10% receive 1 star. The Overall Morningstar Rating for the Fund is currently based solely on its three-year rating because it does not yet have a five-year and ten-year rating.
The Karner Blue Biodiversity Impact Fund is distributed by Ultimus Fund Distributors, LLC (Member FINRA).
Ultimus Fund Distributors, LLC is not affiliated with Karner Blue Capital, LLC, Morningstar, Inc. or the Thrift Savings Plan.
15814531-UFD-101922
MEDIA CONTACT:
Vicki Benjamin
Karner Blue Capital, LLC
(833) 527-6372 ext. 100
vicki.benjamin@karnerbluecapital.com