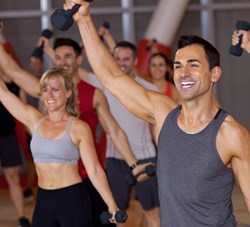 Katami 4x4 is a game-changer in the fitness industry
Los Angeles, CA (PRWEB) January 08, 2014
Created by world renowned fitness expert and best-selling celebrity trainer Paul Katami, the KATAMI 4X4 program provides a unique, comprehensive and dynamic home fitness program, led by a team of celebrity experts in personal training, life skills, nutrition, cooking and internal medicine. The program is designed so participants at any fitness level can achieve their goals and create fit and healthy bodies for life.
The KATAMI 4X4 program is scientifically designed to create substantial results. "KATAMI 4X4 enables its participants to easily develop their own personalized and sustainable workout and lifestyle routines. We want people to create a new, fit lifestyle without extreme diets or crush-your-body training," said Katami.
The core of the work-out plan consists of 1-minute "burst" exercises of medium- to high-intensity training designed to redefine and reshape the body by targeting specific muscle groups. Utilizing these highly targeted 1-minute bursts of cardio, along with lower body, upper body and core strength training, participants get a full body workout every four minutes. These unique KATAMI 4X4 workouts are specifically designed to create the "quad effect," a physiological state where a participant's metabolism stays active for up to 72 hours following the workout, giving participants instant energy, renewed vigor and visible results to keep them motivated to achieve their goals.
"Katami 4x4 is a game-changer in the fitness industry because we integrated all of the tools for effective weight loss and management, and lean muscle development, in one place, adding in new features like celebrity expert tips and tools, full body repair, and life coaching -- features that, until now, other programs have left out" explains Katami.
KATAMI 4X4's celebrity expert team includes: Dr. Mike Dow, renowned therapist and life skills coach; Dr. Venus Ramos, a leading sports medicine physician specializing in internal health, who is also a competitive athlete; Jennifer Cassetta, a leading celebrity clinical nutritionist; Jonathan Rollo, celebrity Chef and owner of Greenleaf Gourmet Chopshops©; and Amy Dixon, leading celebrity master fitness trainer. The KATAMI 4X4 program brings together these top minds in fitness, nutrition, food, life skills and weight loss to help participants redefine their relationships to their well-being through expert knowledge.
The KATAMI 4X4 Fitness Program is currently available at http://www.KATAMI4X4.com.
The program features eight workout DVDs led by Paul Katami; two workout DVDs led by Amy Dixon; two full body repair sessions; foam roller and stretch rope; Fit Fuel Guide with recipes and nutrition tips formulated by clinical nutritionist Jennifer Cassetta; and over 100 expert video episodes featuring life-changing information, tools, and tips from the KATAMI 4X4 celebrity expert team.
~ ~ ~
ABOUT PAUL KATAMI: Creator of best selling workouts Katamibar, Kettlebells, Band Camp, 4x4, TV fitness expert, and fitness instructor to some of Hollywood's biggest actors, models, and athletes. Paul began his professional fitness career at age 19 after making life-changing decisions about diet and exercise that transformed his body from an obese teen to a lean health expert. Since then, Paul has become a internationally recognized fitness trainer who has studied with or been certified by the Aerobics and Fitness Association of America (AFAA), UCLA Fitness Training, UCLA Rehabilitation, Reebok University, American Council on Exercise, IDEA and more. Paul has brought his branded KATAMI 4x4 techniques to some of Hollywood's hottest gyms including Crunch, and now as Group Fitness Director of LA's premier workout club, Equinox Fitness in West Hollywood.
Paul and the KATAMI 4X4 celebrity expert team are available for interviews, appearances, and to discuss all aspects of a healthy lifestyle change, including workouts, nutrition and eating, health and life skills.
Booking inquiries: Alan Tekerlek (You 2.0 Fitness LLC) @ 213.247.7572 (atekerlek@katami4x4.com)