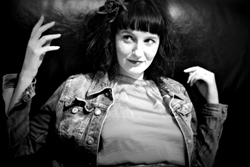 Kate Callahan comes to Subculture with her band Echo Joy, on Sunday, April 13th.
New York, NY (PRWEB) March 27, 2014
Since the turn of the millennium, Kate Callahan has won "Best Solo Performer" from the Hartford Advocate three times, and has shared stages with folk-rock artists Rachael Sage, Regina Spektor, Jonny Rodgers, and Noel Paul Stookey (Peter, Paul & Mary), who calls her lyrics "real" and "zen-like." Now Kate Callahan is coming to New York's Subculture with her band Echo Joy, on Sunday, April 13th.
The six-piece ensemble delivers intricate vocal harmonies blended with acoustic guitar, violin, piano, rhythm, and steel pan drum. Their concerts feature compelling original music alongside songs by The Beatles, Leonard Cohen, and the Great American Songbook, and have delighted critics such as Connecticut's NPR host Colin McEnroe, who says of a recent performance, "There was a kind of giant, multi-pronged Emersonian celestial tuning fork onstage. It was a pretty thing to see, and it put light in one's heart. And oh! They did a remarkable arrangement of "Hallelujah."
Callahan's music feels soulful and she's unapologetically optimistic in concert. Her latest album, Two Doors, adds textures of indie, country, and soul to the classic folk sound, while exploring themes of spirituality, relationship, reincarnation, and creativity. Her earlier work has been compared to "what the young Leonard Cohen might have sounded like had he been a woman and a little more harmonically adventuresome."
Kate's credits include appearances at the 2004 Falcon Ridge Folk Festival Emerging Artists Showcase, the New Haven Festival of Arts and Ideas, and the CT Folk Festival. She has traveled the U.S. performing, and has opened shows for legends Judy Collins, John Gorka, and the late Bill Morrissey.
After winning "Best Singer-Songwriter" at the Connecticut Music Awards in 2013. Kate was recently nominated for Best Songwriter at the New England Music Awards, and was chosen as the prestigiousUnited Arts Campaign's Featured Music Artist of 2014.
For more information, images, or to arrange for an interview, please visit http://www.kate-callahan.com or contact Melissa Zeigler at Powderfinger Promotions melissa(at)powderfingerpromo(dot)com.
Powderfinger Promotions–Independent Radio Promotion and Publicity. Since being founded in October 1994, Powderfinger has come to be regarded as a top indie radio promotion and publicity firm with ties across North America.
Kate Callahan comes to Subculture with her band Echo Joy, on Sunday, April 13th
Subculture- Downstairs
45 Bleecker St, New York, NY
Doors 2:30PM / Show 3PM
http://www.subculturenewyork.com/event/518097-kate-callahan-echo-joy-new-york/