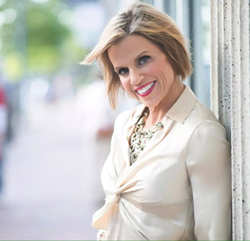 True sexy comes from within, from your ability to love yourself and not be dependent on external validation.
(PRWEB) August 28, 2014
Author and motivational speaker Kate McKay is launching a new website at http://kate-mckay.com which offer tips on money, lifestyle breakthroughs at any age, and helping individuals become the master of their own lives, bodies and businesses.
Kate McKay is a renowned author and speaker whose motto is "Live Sexy, Live Fit, Live Rich!" She motivates those who listen to her speak or read her books to break through and break out of the old patterns that keep them sick, tired and broke to enjoy a new life of prosperity and abundance in health and wealth.
According to Kate, "True sexy comes from within—from your ability to love yourself and not be dependent on external validation. It's about being fit, being rich and being happy with yourself and how you show up in the world." Her new book, Living Sexy Fit, outlines her teachings on health and how people can be fit and healthy at any age.
Now, with her new website and brand, Kate McKay offers visitors even more information on "Living Sexy." Her new website is packed with information on her teachings about prosperity and how to live fit and sexy in all areas of life. Kate hopes that her new website will provide motivation for those who are ready to take the plunge and open the doors to living healthy and abundantly for the rest of their lives.
Kate's book Living Sexy Fit is published by Next Century Publishing.
About Kate McKay:
Kate McKay is a transformational speaker, coach, fitness guru, entrepreneur, and mother whose passion is to spread her message of living a life of abundance. She recently released her first set of e-books; launched her 28-Day "Living Fabulously Fit, from the Inside Out!" program; built a multimillion dollar company from the ground up, and is a single mom to three. Kate also has a passion for fitness and inspires others to live their best life. Kate recently competed in a National Fitness Bikini Competition and placed second at the age of 50. Kate, known as "The Prosperity Maverick", founded Kate McKay, LLC in 2012. The Company is headquartered in Newburyport, Massachusetts, a suburb of Boston.