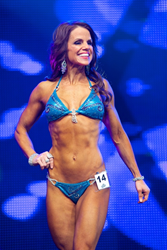 Vision is not a static, passive image; Vision without action is just a dream. It is necessary to live INTO your vision.
Las Vegas, NV (PRWEB) November 12, 2014
Kate McKay is a long-time fitness expert, and since turning 50 she has been competing regularly in fitness competitions, usually ranks in the top three. This incredible accomplishment has led her to share her wisdom through her book series, starting with the first volume: Living Sexy Fit, published by Next Century Publishing. Now, Kate will once again be taking the floor as a fitness competitor, this time at the Fitness America Weekend 2014 at the Golden Nugget Hotel in Las Vegas on November 21 and 22. More information about the competition can be found at http://fitnessamerica.com/.
Kate has been styled a "Master Motivator," and likes to show women how to live "sexy" at any age. She believes in teaching people to be empowered within their own bodies and to live in prosperity. Her teachings enable women to remove the negative and bring the positive into their own lives in order to be the best possible version of themselves in business and family relationships. Her first book, Living Sexy Fit! Get Fit and Sassy at Any Age! launched in June 2014 through Next Century Publishing and immediately became a popular guide for women to live with confidence, health, passion, and self-esteem. The book has been described as one that includes a complete guide to fitness at any age. She is also the author of the upcoming Living Sexy Rich! that will discuss practice tips to be prosperous at any age.
For more information about Kate, visit http://kate-mckay.com/.
About Kate McKay:
As a role model for today's women, Kate McKay is a symbol for many of positive thinking, inspiration and motivation. The author of several books that comprise the Living Sexy series, she offers hope and practical advice for women of all ages who want to live sexy, fit, and abundant lives.