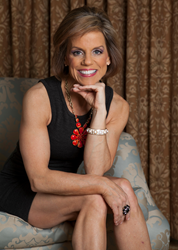 Living Sexy Fit is about resiliency and the ability to reclaim your strength, confidence & health; honor the person that you came here to be.
(PRWEB) June 05, 2014
Kate McKay owns five businesses, teaches others how to live in prosperity and is the founder of the "Living Sexy" movement. Kate's passion is to help others see their own beauty and take life on their own terms in order to live a fulfilled and happy existence. As the founder of the "Living Sexy" movement, Ms. McKay is a vibrant and exciting woman whose passion is seeing others realize their full potential. To this end, she appears at numerous speaking engagements each year, helping others to learn to unlock their inner potential.
Now, Kate is releasing her first book in the "Living Sexy" series, entitled Living Sexy Fit, which launches Tuesday, June 10th, 2014. Her fitness history made this a logical choice for the topic of the first book of this series. At age 50, Kate began bodybuilding and has competed in multiple contests to place within the top three. She brings this enthusiasm and joy for life to her new book, in which she describes the important role that fitness plays in living a fulfilling existence.
Ms. McKay will be appearing as keynote speaker at the Advancing Women's Excellence in Business conference on June 10 on the topic of "Dare To Break Through." At that time, she will introduce the idea of the "Living Sexy" platform as well as talk about her new book series and how it can reach and help those who want to live a more full and productive life. Living Sexy Fit will be published by Next Century Publishing.
For those interested in the "Living Sexy" movement or who want to learn more about Kate McKay, more information is available at her website located at http://kate-mckay.com/about-kate.
About Kate McKay:
Kate McKay is a speaker, coach, fitness guru and entrepreneur whose passion is to spread her message of living a life of abundance. She founded Gold Siena/Gold Party New England and Kate McKay, headquartered in Newburyport, Mass. Kate has a single goal in life: to help others live the most abundant life possible by helping them tap into their inner strengths. Ms. McKay offers her wisdom through her "Living Sexy" series of books as well as personal speaking engagements.