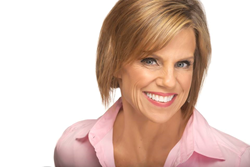 Your transformational journey begins the moment you say to yourself, 'This is where I am going, and nothing is going to stop me'
(PRWEB) August 06, 2014
On August 6, 2014, Kate McKay will appear on the Marilu Henner Show to talk about her new book, Living Sexy Fit. This book is a compilation of much of Kate's teaching and shows women how to live fit and sexy at any age. Kate is scheduled on appear on Marilu's show at 9:39 a.m. Pacific Standard Time and will be sharing some of the insights that led her to write Living Sexy Fit, published by Next Century Publishing.
Kate McKay was once dragged down by divorce, personal tragedy and low self-esteem. Today, this powerful woman lives a life full of prosperity in every regard and wants to take her message to the world: anyone can live this life and increase themselves to their fullest potential by taking control of thoughts and actions. Living Sexy Fit is a distillation of Kate's simple yet powerful message that attention to physical fitness and mental attitude is the only way to make true life changes that result in prosperity and success.
An incredible role model, Ms. McKay is a multi-million-dollar business owner, personal trainer, author and speaker. This single mother of three, who is coined "The Master Motivator," shares her insights with readers and encourages them to use their passion to motivate themselves through struggles that inevitably arise on the path to success.
"Clean fuel, physical activity and self-love are the basis of what you are," says McKay. "Your transformational journey begins the moment you say to yourself, 'This is where I am going, and nothing is going to stop me.' Strive for excellence and never accept second best. You are worth every moment that you spend on your quest for prosperity throughout your life." Fans can also "like" her on Facebook at https://www.facebook.com/katesmckay.
About Kate McKay:
Kate McKay is a transformational speaker, coach, fitness guru, entrepreneur, and mother whose passion is to spread her message of living a life of abundance. She recently released her first set of e-books; launched her 28-Day "Living Fabulously Fit, from the Inside Out!" program; built a multi-million dollar company from the ground up, and is a single mom to three. Kate also has a passion for fitness and inspires others to live their best life. Kate recently competed in a National Fitness Bikini Competition and placed second, at the age of 50. Kate, known as "The Prosperity Maverick", founded Kate McKay, LLC in 2012. The Company is headquartered in Newburyport, Massachusetts, a suburb of Boston.