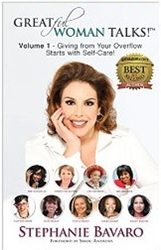 Be confident in the choices you make and live in the laws of attraction, believe that you are worth of the juicy, rich lifestyle!
(PRWEB) October 23, 2014
Kate McKay is recognized as one of today's master motivators and a leading author of inspiring works such as her "Living Sexy" series. Her first book, Living Sexy Fit! Get Fit and Sassy at Any Age!, was launched June 10, 2014, through Next Century Publishing and has experienced very positive reviews and sales. The Living Sexy program is about making a paradigm shift in terms of what is "sexy" and expanding views to live life with confidence, passion, health, vitality and abundance. The first book is filled with inspirational messages and practical tips on nutrition, workouts, wellness and self-empowerment. It has been described as a power-packed guide to being fit at any age.
Now, Stephanie Bavaro is featuring Kate McKay as an author in her anthology, GREATful Woman Talks!: Volume 1: Giving From Your Overflow Starts with Self-Care!, launched September 10, 2014. The book covers the ideas of living with long-lasting confidence, joy and success by utilizing self-care and empowerment. Kate McKay has authored the section of the book entitled "Getting Fit and Sassy from the Inside Out!" This section discusses creating the right balance of physical, emotional and spiritual factors to live your life successfully and how what is on the inside is more important than what is on the outside.
Other works by Kate McKay include her upcoming book, Living Sexy Rich! which will cover practical prosperity at any age. Kate has established herself as an expert in self-confidence, health and wellness whose approach to life includes a positive attitude and the power of exercise, nutrition and confidence to inspire true change and a better life.
About Kate McKay:
She has been called a role model for today's positive-thinking woman and an inspiration to women everywhere. Kate McKay is the author of several books in the Living Sexy series, including her most recent, Living Sexy Fit! Get Fit and Sassy At Any Age! which is filled with inspiration and advice on living a sexy, fit life at all ages.