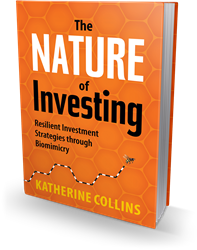 Transforming the investment process from the roots up...
Boston, MA (PRWEB) April 22, 2014
Bibliomotion, books & media is proud to present The Nature of Investing: Resilient Investment Strategies Through Biomimicry by Katherine Collins. The book reunites investing with the real world through natural principles, transforming the investment process from the roots up. Readers will discover the recent shortcomings (and successes) in our financial system.
In an interview with Bibliomotion, Katherine shares her influence and inspiration for the book:
What inspired you to write The Nature of Investing?
"On a personal level, my career was "saved by the bee": I was reminded at a critical juncture of the wisdom that nature holds for us, which led to me reconnecting my work with the actual world (rather than the world on the screen). This benefitted my shareholders, and ultimately led me on a path to Harvard Divinity School and the study of biomimicry. I wanted to share what I've learned with others.
"On a systemic level, the investing world has changed a lot in the last twenty years, and much of that change has been undertaken with an engineering mindset – focused on "faster, more, cheaper". This follows along the lines of the factory model for manufacturing; there are certain advantages that come with that approach, but it also introduces different risks and fragility into the system. The core of investing is actually much more like a natural ecosystem than a factory, and the book explains why natural principles provide a great – and overlooked - framework for investing."
What was your favorite part of the writing and publishing process?
"This might sound crazy, but my favorite part was when I was most lost. About halfway through the writing process, I was really stuck on the details of one particular example. I kept researching, writing, re-writing… going around in circles. Instead of delving even deeper into that wilderness on the page, first I went for a long walk, out in the real live natural wilderness. Then I came back and drew a giant map of the book. I had big sheets of paper hung all around the room with post-it notes and arrows all over the place. All of the ideas, all of the examples, all of the structure were suddenly much more clear than in my earlier planning process. Once that map was finished, I felt free to explore – because I knew where I was going."
Who do hope reads your book? What do you want them to get from it?
"I hope individual investors will read this book and realize that investing is part of our broader social ecosystem, not something "over there" that is disconnected and separate from our lives and communities.
"I hope professional investors will read this book and be reminded that the true nature of investing is creative and connected, in service to our world – optimized, not maximized. Regenerative, not extractive."
Who was your #1 influencer for your work?
"Janine Benyus, founder of Biomimicry 3.8, and Hazel Henderson, founder of Ethical Markets Media directly inspired this book. Both have been tremendous mentors, models, and measures – just like nature."
What are you reading right now?

The Signature of All Things, Elizabeth Gilbert
Flash Boys, Michael Lewis
Evolution of a Corporate Idealist, Christine Bader
Book of Hours, Rainer Maria Rilke
About The Nature of Investing:
We are all investors. We invest our time, our energy, our money. We invest every single day, as citizens, as consumers, as businesspeople. At its core, investing involves connection, exchange, and mutual benefit. Lately, however, the primary, beneficial function of investing has been overshadowed by ever-more mechanized iterations of finance. We have created funds of funds, securitizations of securitizations, and entire firms whose business is based on harvesting the advantage of microseconds of trading speed.
The Nature of Investing calls for a transformation of the investment process from the roots up. Drawing on the author's twenty-plus years of leadership experience in top investment firms, the book connects real-world finance with the field of biomimicry. Citing real-life examples and discussing principles from the natural world, The Nature of Investingshows how we can create an investment framework that is different from the mechanized one currently employed.
Readers will discover an approach that re-aligns investing with the world it was originally meant to serve. An approach that values resiliency over rigidity and elegant simplicity over synthetic complexity. This is the true nature of investing.
About Katherine Collins:
Katherine Collins is Founder and CEO of Honeybee Capital, dedicated to pollinating ideas across varied fields in pursuit of optimal investment decision making. After a long and successful career in traditional equity management, Katherine set out to re-integrate her investment philosophy with the broader world, traveling as a pilgrim and volunteer, earning her MTS degree at Harvard Divinity School, and studying the natural world as guide for investing in a valuable and integrated way, beneficial to our communities and our planet.
Prior to founding Honeybee, Katherine served in numerous capacities at Fidelity Management and Research Company: as head of US Equity Research, she led one of the largest buy-side research operations in the world. As Portfolio Manager, she was solely responsible for investment decisions for the multi-billion dollar Fidelity America funds while based in London, and for the entire range of Fidelity Mid-Cap Funds while based in Boston. Every fund that Katherine managed at Fidelity outperformed its relevant benchmark during her tenure. As Analyst, she managed several different industry-specific Select funds and researched over a dozen different industries. She also spent two years at the Fidelity Foundations, acting as Program Officer for these large philanthropic organizations.
Katherine serves on the board of the Biomimicry Group, led by Janine Benyus, and on the Advisory Board of Ethical Markets Media, led by Hazel Henderson. She has traveled the world as an active volunteer for Habitat for Humanity, and has held numerous volunteer positions with Wellesley College and its Business Leadership Council. Katherine serves as board member of Last Mile Health, an organization building a frontline network of community health care workers in Liberia, and of Common Impact, a nonprofit that facilitates collaborations between global companies and local nonprofits. She is a member of the Harvard Divinity School Dean's Council and of the Sprout Lenders group, and an advisor to Criterion Institute, the PopTech Impact Fund, and the Massachusetts chapter of the Trust for Public Land.
Katherine is an alumna of Wellesley College and Harvard Divinity School, and holds a CFA designation.
About Bibliomotion, books + media:
Bibliomotion is a book publishing house designed for the new publishing landscape. While many publishers work to retrofit old processes for new realities, Bibliomotion was founded by book-industry veterans who believe the best approach is a fresh one – one that focuses on empowering authors and serving readers above all else. Moving away from the top-down model that has dominated the publishing process for years, we give each member of the team – including the author – a seat at the table from the very beginning and in doing so, work side-by-side to launch and sell the best content possible, making it available in a variety of forms.