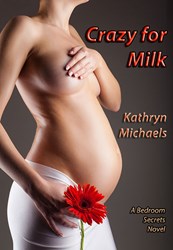 Though motherhood is the most important of all the professions - requiring more knowledge than any other department in human affairs - there was no attention given to preparation for this office - Elizabeth Cady Stanton
(PRWEB) October 29, 2013
Most expecting moms are used to being at the centre of attention – but what happens when the attention causes discord instead of harmony? In the new book Crazy for Milk - now available on iTunes - author Kathryn Michaels delves into the importance of a supportive network for new mothers in an often undiscussed area: breastfeeding.
Without adequate support from the community, many new moms are unable to continue nursing their child, even though they may have gotten off to a good start in the beginning. According to latest 2013 Breastfeeding Report Card from the US CDC, of the 77 percent of women who started nursing a child at birth, only 49 percent continued to do so at 6 months of age. This number further declined to 27 percent at 12 months.
So why do the majority US moms give up?
In a society where breasts are viewed as a pinnacle of sexuality and where attitudes of the general public toward breastfeeding are still evolving, breastfeeding still unfortunately holds a stigma and can lead to feelings of embarrassment, shame and even marital tension in new mothers. Without the essential support they need, many moms are unable to continue nursing despite their best intentions.
"Crazy for Milk" takes a cold, hard look at the effect on a new mother's ability to breastfeed when she doesn't receive adequate support from her partner, her extended family or the community around her. Through one woman's journey, Michaels explores the tension, guilt, loneliness and fear experienced by a new mom who struggles to master the balancing act of being a perfect wife and mother.
The question the book poses: "How does a new mom juggle all her internal and external expectations without losing what is important to her?"
Kathryn Michaels is the author of Bedroom Secrets, a reality-inspired series about millennium moms released by Islandreamz Publishing.
For more information about "Crazy for Milk" or Kathryn Michaels, please visit http://www.writemekathryn.com/books. Media who wish to review her books may request a complimentary copy by contacting the publisher, Islandreamz Publishing at (817) 668-6839.