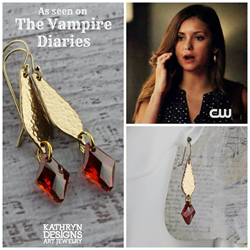 ...just the right amount of sparkle for everyday and beyond.
Ft. Lauderdale, Florida (PRWEB) October 07, 2014
Kathryn Doll, founder of Kathryn Designs (http://www.KathrynDesignsJewelry.com), is enjoying a wave of television placements for her handcrafted earring designs, including on recent episodes of The Young and The Restless, Cedar Cove and The Vampire Diaries. These follow closely on the appearance of her Bronze and Pyrite Necklace on Episode 348 of Hart of Dixie, as well as previous showings of her jewelry on The Vampire Diaries.
Lily Winters Ashby (Christel Khalil) wore Kathryn's Gold Bronze and Copper Swarovski Crystal Dangle Earrings ($55.00) on Episode 10466 of CBS's The Young and The Restless. This bohemian, shimmering pair of earrings features handmade components and luminous Swarovski crystal columns. They are lightweight and add drama to any outfit.
Olivia Lockhart (Andie McDowell) showcased a pair of Gold Bronze Fancy Teardrop Earrings ($35.00) during episodes 203, 206 and 209 of the Hallmark Channel's Cedar Cove. Kathryn describes these earrings as sophisticated and timeless. "I've accented each teardrop with a gracefully shaped point and geometric cutout shape," she says. "I hammer the earrings to create a texture that highlights the luminous gold bronze metal. They are lightweight and have just the right amount of sparkle for everyday and beyond."
Elena Gilbert (Nina Dobrev) wore Kathryn Designs' Long Earrings in Gold Bronze with Magma Swarovski Crystals on Episode 601 of the CW Network's The Vampire Diaries. These earrings feature alluring red magma Swarovski crystal dangles and gold filled ear wires. Lovely and shimmering, they are the pair to choose for an evening out.
"I am thrilled to have this attention on my jewelry designs," said Kathryn. "I love that my work is distinctive enough to catch the eye of accomplished wardrobe stylists. Their appreciation for handcrafted products means a lot to me. I would also like to thank The Artisan Group®, who helped facilitate these placements."
Kathryn creates inspired modern art jewelry for stylish women of all ages. Her "You Are My Heart" Gold Bronze Bracelet with Birthstone Charms, which was gifted to Hollywood Moms including Gwen Stefani, Kerry Washington, Halle Berry and Ginnifer Goodwin has been a consistent best seller. Her iconic gold bronze amulet necklaces, first seen on The Vampire Diaries, are also a customer favorite.
Kathryn has had her jewelry designs included in celebrity swag bags for GBK's Primetime Emmys Gift Lounge. She has gifted Selena Gomez, Stephanie Drapeau, Renee Zellweger and The Wendy Williams Show. Her designs have also gone to Kim Kardashian, Busy Philipps, Shakira, Jaime King, Olivia Wilde, and Kelly Clarkson, among many others. "WomanScope News Magazine" has featured her jewelry and Doll has written several jewelry-making tutorials published in "The Maryland Women's Journal."
To learn more about Kathryn Designs Jewelry, contact Kathryn Doll at 954-260-8667 or get in touch with her by email. To learn more about The Artisan Group, visit theartisangroup.org.
ABOUT KATHRYN DESIGNS JEWELRY
Kathryn Doll, the artisan behind Kathryn Designs (http://www.kathryndesignsjewelry.com), has been fascinated with creating jewelry since she pierced her Barbie Doll's ears with a beaded straight pin as a child. Kathryn and her sister decided the occasional scratch from the makeshift earring sticking out of Barbie's head was an acceptable risk in the name of adornment.