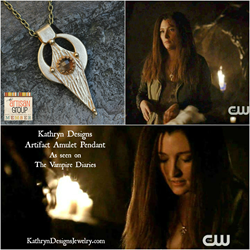 My Smoky Quartz Artifact Amulet Necklace is the perfect combination of old world style and modern design.
Atlanta, Georgia (PRWEB) March 04, 2014
Kathryn Doll of Kathryn Designs Jewelry (http://www.kathryndesignsjewelry.com) is pleased to announce her Smoky Quartz and Bronze Artifact Amulet Necklace was worn by character Mia (actress Taylor Treadwell) on Episode 512 of the CW Network's hit drama, "The Vampire Diaries." The episode, titled "The Devil Inside," aired January 30, 2014.
The Artifact Amulet Necklace was chosen for use by the show's wardrobe stylist Leigh Leverett from a selection of pieces presented to her by California-based arts promotion organization, The Artisan Group®, of which Doll is a member.
This unique artifact inspired pendant was created in bronze and features a lovely faceted smoky quartz stone. It was inspired by ancient treasures and combines old world style with modern design. Elegant and gothic, this piece of art jewelry has the mysterious quality of a powerful artifact. Its dagger-like edge combines with delicate construction techniques for a truly versatile look.
The Smoky Quartz Artifact Amulet Necklace is a Kathryn Designs original and was carefully crafted by hand in several stages with careful attention to detail, then hand finished, burnished to highlight the raised areas, and treated to prevent tarnishing. The 8mm faceted smoky quartz stone was set in a crown style bezel.
The pendant is about two inches long and one inch wide. The front has a combination of textured and satin finishes. The brass metal cable chain is finished with a lobster clasp and three inch long chain extender.
The Smoky Quartz and Bronze Artifact Amulet Necklace is available to purchase at kathryndesignsjewelry.com or at kathryndesignsart.etsy.com
In other news, Kathryn recently had her Bronze and Pyrite Teardrop Necklace included in a surprise swag bag presented to singer/actress Selena Gomez at the after party for her November 6 performance at the Staples Center in Los Angeles. Band and crew members received Kathryn's Leather, Bronze and Concrete Cuff.
Kathryn recently showcased on display a bold, floral-inspired statement necklace and selections from her upcoming men's jewelry line at GBK's Celebrity Gift Lounge in Honor of the 65th Annual Primetime Emmy Awards Nominees & Presenters. Her Carnelian and Bronze Pendant Necklace was nestled inside The Artisan Group swag bags, which were handed out to celebrities stopping by The Artisan Group exhibit at the Gift Lounge.
As a result of the Primetime Emmys appearance, Doll has received photos of her men's jewelry worn by Steven Bauer ("Ray Donovan"), Brian McKnight ("Forgetting Sarah Marshall"), Nico Tortorella ("The Following," "Scream 4") and Tim Pocock ("Camp," "Dance Academy.")
Stephanie Drapeau, Renee Zellweger and The Wendy Williams Show are among those who have been gifted Kathryn Designs Jewelry. Her designs were also selected for inclusion in The Artisan Group's 2013 Mother's Day Collaborative Gift Bag, which was delivered to some of Hollywood's most stylish moms, including Kim Kardashian, Busy Phillips and Shakira.
Kathryn Designs has also been featured in "WomanScope News Magazine" and Doll has written and had several jewelry-making tutorials published in "The Maryland Women's Journal."
To learn more about Kathryn Designs Jewelry, contact Kathryn Doll by phone or email. To learn more about The Artisan Group, visit theartisangroup.org.
ABOUT KATHRYN DESIGNS JEWELRY
Kathryn Designs Jewelry (http://www.kathryndesignsjewelry.com) is the home of luminous art jewelry by Kathryn Doll. Kathryn works from her studio in Atlanta, Georgia. Born in Louisville, Kentucky, Kathryn has resided for many years in Miami and Fort Lauderdale, Florida. She now lives near Atlanta, Georgia with her family and studio assistants, Allie the Papillon, and Eddie the Sheltie.