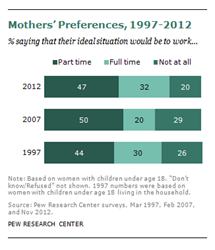 We need to understand that there's no formula for how women should lead their lives. That's why we must respect the choices each woman makes for herself and her family. Every woman deserves the chance to realize her God-given potential - Hillary Clinton
(PRWEB) August 28, 2013
Women account for over half of the management, professional and related occupations in the United States and yet, despite their own preferences and the investments they have made in their education and career, when the new baby arrives, only 64.2% of new mothers are likely to still be working within the first six years. Even though corporate figures such as Sheryl Sandberg strive to inspire working women to "lean-in" and pursue their careers, many organizations continue to find themselves in danger of losing their top talent as women choose to opt-out and leave their professional life altogether.
In fact, the women's labor force participation rate has been steadily declining over the past decade to 58.1% in 2011 since it peaked at 60 percent in 1999.
So, how can organisations retain top talent by cultivating a friendly work environment?

Introduce flexible work hours. Empower her to choose where and when she spends her hours working as long as deliverables are met.
Provide the infrastructure necessary to make it possible for new parents to work remotely – a laptop, access to the organization's systems through the VPN (Virtual Private Network), and the ability to hold meetings via video or tele-conferencing.
Make it easier for her to be in the office. Provide the facilities for her to express and store her milk safely so she can continue to nurse her child in the long run.
Foster support groups for new parents within the organisation. Assign mentors through these support groups which can help the new parents adjust to the new phase of their lives.
Ensure that corporate policies are family friendly through the advocacy of flexible work hours, granting parents the ability to use sick leave to care for children, paid maternity leave or even access to child-care benefits.
Promoting solid opportunities for professional advancement and raises to make it worth their while (both as individuals and for their families) to continue working with the organization.
Don't lose top talent simply because they are forced to choose between being in the office or being at home. Give them the options and the needed support to continue pursuing their career while making their family life work.
Kathryn Michaels is the author of Bedroom Secrets, a reality-inspired series about millennium moms. Her books are released by Islandreamz Publishing and available on Amazon, at http://www.amazon.com/Kathryn-Michaels/e/B00AQKP6Y4. The opinions expressed in her Moms@Work series are entirely her own. For more information about her books or Kathryn Michaels, please log on to http://www.writemekathryn.com/. Members of the media who wish to review her books may request a complimentary copy by contacting the publisher, Islandreamz Publishing at +1 (817) 668-6839.