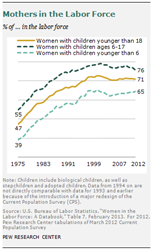 Always continue the climb. It is possible for you to do whatever you choose, if you first get to know who you are and are willing to work with a power that is greater than ourselves to do it. - Ella Wheeler Wilcox
(PRWEB) August 29, 2013
Author Kathryn Michaels explores how employers can attract untapped talents from career-oriented stay-at-home moms seeking to re-enter the workforce in her second Moms@Work series.
Making the decision to leave behind the fancy suits with the corporate agendas in order to be a stay-at-home mom might seem like the obvious choice when the baby is crying for attention but the repercussions are soon felt once the children have outgrown their diapers and strollers. Despite all their education and work experience, when the time comes for the career-oriented stay-at-home moms to re-enter the job market, they are confronted by wage penalties for taking time off, not having relevant enough work experience after the changes in their industry and the lack of flexibility in the office that will allow them enough time with the family.
The Center for Work-Life Policy estimates that 43 percent of highly qualified working mothers leave the workforce at some point in their career and stay out an average of two years. Since the share of mothers in the labour force only increases by 6% once their children are past the age of six, there is still a large potential for employers to rehire these career-oriented stay-at-home moms.
So, how can employers tap into this underutilised talent pool?

Don't lose them to begin with. Offer the new mother other options such as part-time work within the same organisation, a transfer to another division which would utilise her skills yet give her more predictable hours, or even a long term sabbatical.
Leave the door open. Implement an alumni networking program where top female talents seeking to return to the organisation are always welcome.
Get their feet wet. Offer a "returnship" program, which is currently practised by a handful of companies such as Goldman Sachs and Sara Lee to invite mature workers to work for a trial period lasting weeks or months.
On the other hand, mothers seeking to return to the workforce need to manage their expectations and be prepared to:

Take a pay cut in the beginning. Women MBAs who take time off to be with children, have seen their pay drop 41% relative to male MBA earnings, according to Harvard economist Claudia Goldin. The Center for Work-Life policy pegs the wage dip at 18% across a range of professional occupations.
Work for little or no pay under "returnship" programs, which may not appeal to experienced professionals but after being out of the market so long, this could be the best option. When Goldman launched its program, six of 11 participants landed full-time jobs.
Go back to school in order to themselves more marketable.
Take on a different job role or position, especially if the previous role is no longer available.
Kathryn Michaels is the author of Bedroom Secrets, a reality-inspired series about millennium moms. Her books are released by Islandreamz Publishing and available on Amazon, at http://www.amazon.com/Kathryn-Michaels/e/B00AQKP6Y4. The opinions expressed in her Moms@Work series are entirely her own. For more information about her books or Kathryn Michaels, please log on to http://www.writemekathryn.com/. Members of the media who wish to review her books may request a complimentary copy by contacting the publisher, Islandreamz Publishing at +1 (817) 668-6839.