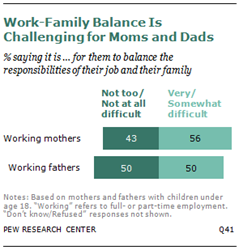 I don't think balance is something you get from someone else; it's something women have to find from within - Rachel Weisz
(PRWEB) September 18, 2013
A recent survey by Pew Research found that well over half of all working mothers (56%) with children under 18 said that it is difficult for them to balance the responsibilities of their job with the responsibilities of their family. Undoubtedly, achieving the optimum work-life balance is easier when the working mother can afford to outsource help and pay for someone else to clean her home, cook her meals or even babysit the children while she focuses on her career, herself or her family. But when the working mom cannot afford it, that's when juggling work and family life becomes even more difficult. In her latest Moms@Work series, Kathryn Michaels offers up some strategies to help achieve work-life balance for mothers on a tight budget.
So what can these working moms do to achieve a better work-life balance?

Carve out some time for yourself. When mom is happy, everyone else is happy. The family appreciates your sacrifices but your own personal well-being is also important. You don't need to spend a fortune at the spa. Sometimes, it is a simple as taking some time for yourself - to work out, read a book or even enjoy a quiet cup of tea.
You are not alone. By joining with other mothers in the community, you can work together to build a support structure to help each other out, instead of paying an external service provider. Options include taking turns to do the pick-ups and drop-offs at school/daycare, or babysitting for one another so that each mom can have time to themselves, or taking turns to cook dinner for each other on different nights of the week.
Date nights count. Devoting some quality time to your significant other doesn't have to cost you an arm and a leg in babysitting fees. Make arrangements with other parents in the neighbourhood. You can have a night out with your partner while they babysit your kids, and return the favour for them another time.
Technology is an advantage. If you can work from home in the evenings instead of staying back late in the office, why sacrifice the time with your family and hire external help to babysit the children? Make full use of technology to work from home if you can.
Let go of the guilt. No one is a super-mom although all mothers try to be one. Forgive yourself if you can't afford to pay for all the after-school activities your child wants to join.
Redefine your expectations. You are not a failure just because the beds are unmade and there are dirty dishes in the kitchen sink from last night. Not everyone can afford to outsource help, and you can live with a little messiness in your life. A little dirt won't kill you but your expectations can.
As Rachel Weisz once said, "I don't think balance is something you get from someone else; it's something women have to find from within."
Kathryn Michaels is the author of Bedroom Secrets, a reality-inspired series about millennium moms, which are released by Islandreamz Publishing. The opinions expressed in her Moms@Work series are entirely her own. For more information about her books or Kathryn Michaels, please log on to http://www.writemekathryn.com/books. Members of the media who wish to review her books may request a complimentary copy by contacting the publisher, Islandreamz Publishing at +1 (817) 668-6839.