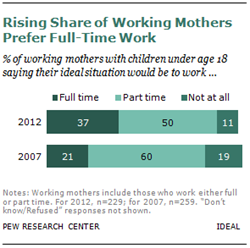 Flexibility has become a modern day value that everyone wants. But flexibility comes with a cost - Maynard Webb
(PRWEB) September 30, 2013
Although a recent survey by Pew Research reported that more mothers with children under age 18 prefer to work full time (an increase from 20% in 2007 to 32% in 2012), only 16% of parents believe that having a mother who works full time is best for the children. In today's constant struggle to balance both a full-time job and family, the need for flexible work arrangements has become even more important. However, before deciding to opt for such arrangements, there are some hidden costs that need to be looked at, as author Kathryn Michaels exposes in her latest Moms@Work series.
So what are the key considerations working mothers need to evaluate before opting for flexible work arrangements?

Time cost. She could end up spending more time working when she's on a flexible work arrangement then she would have if she had spent the full time hours in the office – either because she feels she needs to work harder to prove herself and make up for not being physically present in the office; or simply because even though she opted for a shorter work week in order to spend some days at home with the family, her workload is still a five-day one.
Selling herself short. She may have been a high performing employee with a bright future in the organization but the availability of long, paid parental leaves and part-time positions may encourage her into taking these options when she would otherwise have been more committed to her career.
Informal pressure. Although formal policies to work from home, compress work weeks or share jobs may be in place, informally there is always the risk of being viewed as less committed to work, which jeopardizes performance evaluations and career advancement prospects in the long run.
Barrier of re-entry. She may opt for a career break now, not taking into consideration the difficulties she might have in re-entering the job market especially when her former position has been filled and she finds her skill set and experience out-of-date, especially if she has not been keeping her qualifications up-to-date.
Kathryn Michaels is the author of Bedroom Secrets, a reality-inspired series about millennium moms released by Islandreamz Publishing. The opinions expressed in her books and her Moms@Work series are entirely her own. For more information about her books or Kathryn Michaels, please log on to http://www.writemekathryn.com/books. Members of the media who wish to review her books may request a complimentary copy by contacting the publisher, Islandreamz Publishing at +1 (817) 668-6839.