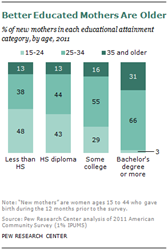 I just want to make sure I have a sense of balance between work and life, because work is my life and the lines can get really blurry. – Drew Barrymore
(PRWEB) September 30, 2013
Recent analysis by Pew Research has revealed that on average, the more education a woman obtains, the older she is when she decides to become a mother. New mothers with a bachelor's degree are about twice as likely to be ages 35 or older (31% are) as compared to 13% of women with a high school diploma or less, or 16% of women with some college education. After the personal investments made in education and hours spent driving her career in the office, it isn't easy making the hard stop at 5pm to rush home to be there for the family. In her book - Crazy For Milk - which was just released on iTunes, author Kathryn Michaels shares the secrets to surviving the first few months for women trying to balance being a high performance employee and a new mother.
So, what can these mothers do to manage the challenges of being a new mother at home and a high performer in the office?

Stand up for herself. She shouldn't be afraid to ask her employer about options surrounding flexible work arrangements. This will never be offered automatically. If she wants the ability to manage her time and workplace, she has to make the first move.
Hire help. If she can afford it, engage a cleaning service to take care of all the housework which she won't have time for now. Getting a nanny instead of leaving the baby at daycare will help reduce the stress of rushing home everyday to pick the little one up by a certain hour.
Band together. By creating a support group amongst other mothers in the organisation or her community, she can develop friendships and help each other as well as reduce the stress and loneliness of having to do it all by herself.
Release the guilt. Don't let the dream of being the perfect mom create unnecessary stress. Not everything has to be done immediately or by herself. Take a little time to destress. A happier mom is a better mom.
Project manage. Make full use of technology to create tasks, schedule calendar entries and reminders. With so many things on her plate, planning them out and taking things one step at a time will seem less overwhelming than lying awake in bed at night worrying about the 101 things that need to get done the next day.
Keep the man happy. Don't add unnecessary stress to the relationship by focusing only on the new baby and the career whilst ignoring the man. He deserves some attention too. Hiring a babysitter will buy precious moments alone with him.
Know the reasons why she works – Identifying and remembering the key reasons – ambition, financial necessity or independence – will help her remain focused in times of stress.
Now on iTunes, Crazy For Milk takes the reader through the journey of a new mother as she tries to be the everything to everyone – the perfect wife, mother and employee – and her experiences as she learns to deal with physical exhaustion, sleep deprivation, guilt, intimacy, loneliness and fear. The question the book poses is, "How does a new mother juggle all the internal and external expectations without losing herself?"
Kathryn Michaels is the author of Bedroom Secrets, a reality-inspired series about millennium moms released by Islandreamz Publishing. The opinions expressed in her books and her Moms@Work series are entirely her own. For more information about her books or Kathryn Michaels, please log on to http://www.writemekathryn.com/books. Members of the media who wish to review her books may request a complimentary copy by contacting the publisher, Islandreamz Publishing at +1 (817) 668-6839.