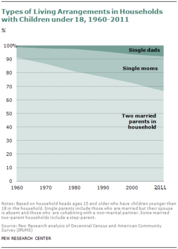 We must be willing to pay a price for freedom. - H. L. Mencken
(PRWEB) July 08, 2013
After the Fourth of July BBQs are over and after the fireworks are gone, many Americans are thankful for the independence they have today but this may not extend to everyone. Many are still trapped in a troubled marriage and trying to reestablish their independence even though the price of freedom doesn't come cheap.
A recent analysis conducted by Pew Research Center shows that households with children headed by single parents have increased from eight percent in 1960 to 33 percent in 2011. The divorce rate has increased from 2.2 in 1960 to 3.6 in 2009.
So what's their price of freedom?

Ending up with the weight of the world on their shoulders – single parents bear the financial burden of raising their child(ren) by themselves, especially if child support is in arrears. In 2009, only 41.2 percent of custodial parents received the full amount of child support owed them. All in all, $35.1 billion in child support was owed in 2009 and only 61 percent of that total was received.
Threats to their own significance - especially when they are forced to let their ex's new significant other play a part in their children's lives. Not an unlikely situation since the recent analysis by Pew Research Center also showed that 41 percent of single fathers and 16 percent of single mothers are living with a cohabiting partner.
Fear of getting into a relationship again and being vulnerable, which would affect the ability to trust another individual emotionally and physically. Of all divorced people aged 25 and over, only 55 percent of men and 44 percent of women have remarried.
Loss of certainty about the future; when previously there were shared family, personal and financial goals, now, new priorities have to be established and new goals found.
Kathryn Michaels is the author of Bedroom Secrets, a reality-inspired series about millennium moms, released by Islandreamz Publishing and available on paperback and kindle at http://www.amazon.com/Kathryn-Michaels/e/B00AQKP6Y4. Her novel, Sweet On Me explores the price of freedom a single working mom has to pay when she decides to leave her abusive spouse. For more information about her books or Kathryn Michaels, please log on to http://www.writemekathryn.com/. Members of the media who wish to review her books may request a complimentary copy by contacting the publisher, Islandreamz Publishing at +1 (416) 275-5195.