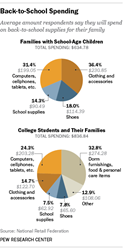 The greatest weapon against stress is our ability to choose one thought over another - William James
(PRWEB) August 31, 2013
As the summer vacation draws to an end, tension at home builds up as many parents scramble to get their children ready to go back to school after the long Labor Day weekend. In fact, the National Retail Federation estimates that total back-to-school spending this summer will total $26.7 billion, or an average of $634.78 for families with school-age children. With all the last-minute preparations and shopping that needs to be done, it's no wonder that many parents will be feeling stressed over the long weekend. In her latest Moms@Work series, Kathryn Michaels proposes some techniques for parents to keep in mind this busy season.
So, how can parents alleviate their stress, and maybe even enjoy their long Labor Day weekend?

Take care of yourself. All work and no play won't alleviate the tension. Try to relax and spend some quality time with the family before the rush begins next week. Carve out some time to enjoy a BBQ this long weekend.
Share the load. Many hands make light work. Let the children be responsible for getting themselves ready for school as well. Seek help from a support network – grandparents, extended family and friends.
Don't feel guilty in relinquishing total control of everything that needs to get done. No parent is expected to be perfect although many try to be.
Remember why you work. As parents struggle to juggle work and family, it's easy to forget in these moments why you work. Knowing the reasons will help strengthen your resolve to get through the week and ease the stressful moments.
Rediscover no. It's easy to drown in the sea of things that need to get done. Don't feel guilty saying no when you need to. Not everything needs to attended to immediately. Some things can wait.
As William James, an American philosopher and psychologist once said, "The greatest weapon against stress is our ability to choose one thought over another." It is within each and every parent to manage how much stress they choose to feel this long weekend.
Kathryn Michaels is the author of Bedroom Secrets, a reality-inspired series about millennium moms. Her books are released by Islandreamz Publishing and available on Amazon, at http://www.amazon.com/Kathryn-Michaels/e/B00AQKP6Y4. The opinions expressed in her Moms@Work series are entirely her own. For more information about her books or Kathryn Michaels, please log on to http://www.writemekathryn.com/. Members of the media who wish to review her books may request a complimentary copy by contacting the publisher, Islandreamz Publishing at +1 (817) 668-6839.