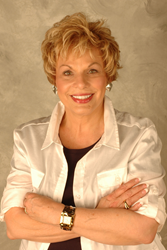 "It is exciting that the countries where I lived and visited can now hear my program with a simple app." Kathryn said.
Cincinnati OH (PRWEB) June 23, 2016
Kathryn Raaker has long been known as the queen of the radio with her magazine-format programs. Broadcasting on multiple platforms (Christian Talk, Military Radio, Streaming, Internet Radio), Kathryn prides herself on reaching all ages through interviews with a wide range of guests. The free App has been designed for entertainment for the whole family and reaches around the globe.
The breadth of Kathryn's guests range from moms and dads, to business people, pastors, the military and veterans, fashion designers, entertainers, filmmakers, writers and politicians; doctors making advances in health and wellness; inventors, travelers, chefs and more. She travels the world looking for stories about everyday people, entrepreneurs and those who are behind the scenes with their heads buried in their work. She has something for everyone and is always looking for a great story.
At 71, Kathryn has been dubbed "The Energizer Bunny" by her friends and co-workers and was even in The Energizer Bunny contest a few years ago. With boundless energy and an enthusiasm for life she is not the typical member of her generation. Instead of slowing down, Kathryn picks up more and more responsibilities at promoting her programs. Her passion is to reach people with something valuable. "I want to raise an awareness around the globe that provides hope. Our programs help educate the masses—offering something to all listeners. Our radio show is actually a gold mine of information."
The radio listeners of Let's Just Talk grow daily because of the syndication of her programs and with the advances of her TV programs, The Chef You and I, and Born B4 64, and Timeless Performers. Additionally, Kathryn is the co-host and producer of additional programs, always helping others to advance their careers in broadcasting. "I feel like it is my responsibility to help people reach their goals, especially those who are like-minded and interested in reaching a similar audience."
Kathryn has lived and traveled the world in her career. With a husband who was transferred multiple times to foreign countries, Kathryn always made her mark where ever they lived: Turkey, England, Spain and Singapore and numerous states in America. This instilled a love of travel and a desire to see and learn about many countries. "It is exciting that the countries where I lived and visited can now hear my program with a simple app. I might be 71 years old, but I have the team to keep me in the forefront of technology," Kathryn said.
For more information about Kathryn Raaker, Let's Just Talk visit her web site at http://www.kathrynraaker.com To download the app visit the App Store, type in Let's Just Talk with Kathryn Raaker and install this free app.
Contact:
Kathryn Raaker
513-616-6986
Kraaker123(at)gmail(dot)com