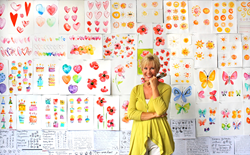 Kathy Davis is one of those unique women all women can relate to and admire.
Horsham, PA (PRWEB) February 24, 2014
Kathy Davis recently shared her Seven Simple Secrets to success in business and life in the Winter 2014 edition of Where Women Create Business magazine. One of the world's premier social expressions designers whose career path took an exciting turn some 15 years after it began, her story is inspiring on many levels.
"I was once asked in an interview, 'What's the secret to your success in such a competitive field?' says Kathy Davis. "I thought about it and realized that there really is no secret at all. But I was able to come up with seven basic principles that have helped to guide my journey. And I believe they can help anyone, no matter who you are or what you're doing in life."
In the article, Davis identifies the principles she found to be instrumental in her success and explains how each one has shaped her life. In addition, she shares "5 Simple Secrets to Licensing," a sidebar with essential tips for developing a licensing business. Photographs of her 25-person design Studio and a poster she created, "7 Simple Secrets to Success" accompany the article.
The magazine is available at the Kathy Davis Online Shop and on newsstands.
"Kathy Davis is one of those unique women all women can relate to and admire," says Jo Packham creator/editor-in-chief of Where Women Create Business (published by Stampington). "Her art and messages reflect the very positive presence she is as a designer, as an entrepreneur and as a person."
About Kathy Davis Studios:
Headquartered in Horsham, PA, Kathy Davis Studios is a leading design company serving the gift, stationery, greeting card, fashion, baby, home decor and craft industries. Led by Kathy Davis, America's top social expressions designer, the firm designs products that sell worldwide. Davis is also the author of the books Simple Secrets: 7 Principles to Inspire Success, and Scatter Joy – Create a Life You Love, reflecting the mission that pervades all aspects of her art and life.
For additional information and inquiries about Kathy Davis Studios, contact Mary Anne Wolk, maryanne(at)Kathydavis(dot)com; 215.444.9544, X 112.
For information about Where Women Create Business, visit their website.