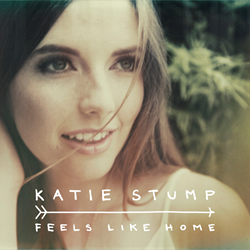 Singer songwriter Katie Stump is a rising star! E News
Los Angeles, CA (PRWEB) September 23, 2015
Singer songwriter Katie Stump releases new EP titled Feels Like Home produced by Grammy-winning producer Mikal Blue.
With over 250 written songs and two full-length albums, 21-year-old Katie Stump is quickly proving her worth amongst the most prolific singers and songwriters of today. Drawing from pop, folk, and country influences, her honest lyrics and vibrant melodies create a unique experience that pulls the listener into the beauty and vulnerability of the heart.
Treasure Map, the first single and music video to be released from her new EP has already been featured on KCAL 9 and E News. Co-written by Stump and Jason Afable, this song marks Katie's return to the more country influenced songs in her repertoire. Katie says, "I had a feeling on her heart, Jason had a song title in his notebook, and before we knew it, we found gold." Katie will be releasing a music video for her second single Stutter, in the coming months.
"Katie's promise as a rising star is undeniable. From her songwriting to her live performance to her ear for production in the studio, Katie is headed for great things, and I can't wait to watch the world fall in love with her music."

Mikal Blue, Producer (Colbie Caillat, Jason Mraz, OneRepublic)
"Katie Stump is the brightest of lights. Her abilities as a prolific young songwriter are accompanied by an unstoppable personality both on stage and off. She's one to watch."

Sean Holt, Producer, Performer, Asst. Professor (USC School of Music)
For interviews with Katie Stump, contact S1 Agency at (888) 661-4928.
Official Website: http://katiestump.com
Facebook: http://facebook.com/katiestumpmusic
Twitter: http://twitter.com/katiestumpmusic