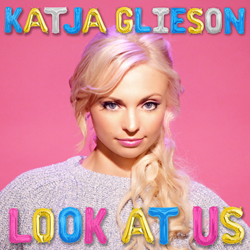 I just want this song and video to be a soundtrack for something positive in people's lives. I want people to be able to celebrate being their true selves and have fun like we all did when we made this video.
Los Angeles, CA (PRWEB) March 08, 2015
Australian recording artist Katja Glieson, who is known for starring in the viral video "Princess Rap Battle" as Elsa, is gearing up for a release of her new single and music video that should please fans of the rap battle series, the latest of which stars Sarah Michelle Gellar. Katja's new single, "Look At Us," was produced by noted producers Trend Def in West Hollywood, who list Snoop Dog, Sammy Adams, and The Veronicas as notable clients, and whose writing team has worked with Lady Gaga in her early days. The music video, which will debut on Tuesday, March 10, 2015, features well known drag performer Ongina, who shot to fame as a star on "RuPaul's Drag Race." Ongina is known for her signature look as the "bald, hat wearing queen," and is host of "HIV+ME" on Logo TV and frequently performs in West Hollywood and around the US.
Speaking in an interview from Stage ThIS LA, the expansive studio often used by other artists like Katy Perry and Britney Spears and where Katja's music video was shot, Ongina spoke about the song not only being the next "summer anthem" but having a great message of "being who you are" and not letting haters or bullies "bring you down." Katja invited Ongina to be part of the project to teach her and the other "Modern Disney Princesses" in the video a thing or two about being a "real queen." Even though Katja is known for the classic line at the end of the "Princess Rap Battle" where she declares that she is the "Mother F*** Queen" before freezing Snow White, as well as looking exactly like Elsa from the animated film "Frozen" - of the rapping variety - nobody can deny Ongina's expertise in this field!
In the new video, Katja both sings and raps, as well as performs a full choreographed dance with six other princesses (her dancers that also perform live with her). The style inspiration for Katja and her dancers are those of the Disney princesses that have also stepped out and owned who they are - characters like Tiana, Esmerelda and Megara. To give them that "Modern Disney Princess" look, Katja reached out to Aussie fashion brand Showpo for help. The brand was more than willingly to sponsor the project and provide clothing for the girls.
Katja also asked YouTuber Zedakiah Koterba to join her on set due to his experiences with bullying, something Katja has also struggled with most of her life. The 22-year-old singer has only just overcome many of the challenges of her past, events that "go beyond bullying," according to a recent blog post by the Aussie pop star. At one point, Katja found herself very unhealthy and weighing over 200lbs, caused, she says, by bad food choices and the stress associated with earlier abuse.
Now coming in to her own, with a song that perfectly embodies female empowerment, celebrating being true to who you are and confidently inspiring everyone to "look at us" and who we are now, Katja is set to continue touring the song both to more PRIDE festivals in 2015, after performing on the main stage at LA PRIDE and CAPITAL PRIDE last year alongside Rita Ora, Bonnie McKee and Jennifer Hudson, and to radio stations all over the country. There has even also been talk about a deal with major record label, which is also keeping an eye on the young artist.
Fans can catch the video on Katja's YouTube channel: http://youtube.com/KatjaGlieson. Follow Katja on Instagram: @katjaGlieson; http://www.facebook.com/katjamusic; Vine: http://vine.co/katjaglieson.
For all media information, please contact Michelle Parimore at parimoremanagement(at)hotmail(dot)com.