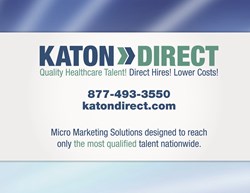 SmartSource® provides subscribers with an immediate and substantial competitive edge in recruitment.
Rye, NY (PRWEB) February 03, 2014
Today, Katon Direct, the nation's foremost provider of integrated micro-marketing solutions to the healthcare industry, unveiled the next generation in talent-acquisition technology with their highly-anticipated new product, SmartSource®. This state-of-the-art, subscription-based sourcing platform will revolutionize large-volume healthcare recruitment, making it easier than ever for healthcare companies to reach the top talent in their markets—and to optimize their campaign results.
"With this one all-inclusive solution," added Katon Direct Founder and CEO Richard Kaskel, "companies and advertisers can rapidly and effectively attract both active and passive job seekers—and send personalized relevant information to the most desirable possible candidates. They will also save money by making more direct hires," he concluded.
"By integrating cutting-edge micro-marketing technology with America's largest and most complete licensed healthcare database of professionals, SmartSource provides its subscribers with an immediate and substantial competitive edge in recruitment. No other existing strategy gives healthcare providers the power to pre-identify 100% of their potential audience—thereby delivering highly-personalized and relevant opportunities that are right in their target audience's neighborhood," said Anthony Gentile, Managing Partner at Katon Direct.
SmartSource's new sourcing platform is a turnkey solution—both designed to attract top healthcare professionals on a continuous basis and to respond, in real time, to the changing nature of current job prospects as well as the company's talent needs. This easy-to-implement program gives healthcare companies the crucial, time-saving ability to create a personalized recruitment message—thus encouraging qualified professionals to apply directly on client's career sites instantly.
Industry leaders agree: Never before have healthcare companies been granted such a comprehensive, long-term step up on the competition. SmartSource is a game-changing, revolutionary new technology. Can your company afford to be without it?
About Katon Direct
Over the last 12 years, Katon Direct works tirelessly to connect organizations to top quality healthcare professionals, using innovative programs and specialized micro marketing techniques. Katon Direct allows companies to customize campaigns and choose the strategies that will work best for their needs. As a result, companies save time and money while getting even better results. For more information, visit us online at http://www.katondirect.com or contact us at 877-493-3550.