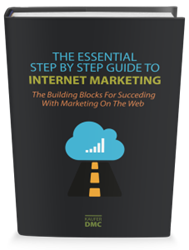 Kaufer DMC has created a number of online resources that provide businesses and healthcare practices with the information and tools to build inbound digital marketing programs that increase website traffic and generate more customer leads
Seattle, WA (PRWEB) July 26, 2013
Marketing professionals and business owners are increasingly understanding the importance of internet marketing today. They now 'get' that traditional marketing methods are becoming both ineffective and expensive, and know that by neglecting to market their business on the web, they are missing out on the powerful business results that an effective internet marketing strategy can afford.
Whether the business is just getting started with internet marketing or it just wants to brush up on the basics, Kaufer DMC has created a new eBook to serve as a tour guide to setting up and implementing a successful internet marketing strategy, step by step.
To learn the essential step-by-step guide to Internet marketing, download the ebook.
Kaufer DMC has created a number of online resources that provide businesses and healthcare practices with the information and tools to build inbound digital marketing programs that increase website traffic and generate more customer leads. The "Brain Food" covers a range of topics that are helpful to marketers and small business owners, including:

50 Internet Healthcare Facts and Statistics
The Essential Step-By-Step Guide To Internet Marketing
How to Create an Effective Inbound Marketing Campaign
10 Internet Marketing Tips to Increase Sales Leads
How to Blog to Attract New Customers
The Social Media Tune-Up
About Kaufer DMC
Launched and led by seasoned branding, marketing and communications veteran David Kaufer, Seattle-based Kaufer DMC is a digital marketing agency that creates successful branding, visibility and buzz-building programs that take advantage of the new inbound marketing era. To learn more about Kaufer DMC, visit http://www.KauferDMC.com, or follow the company on Twitter, Facebook and LinkedIn.