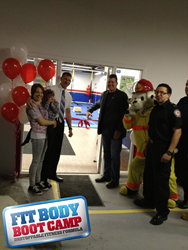 The biggest reward for the people who take our challenge is the transformation of their bodies.
Lindsay, Ontario (PRWEB) June 13, 2014
In today's climate of hectic work schedules, the fitness boot camp has become more and more popular. Boot camps cater to very busy people, with short but intensive workouts held early morning and late in the evening to accommodate equally intense work schedules.
Corporal Sean Francis, of Kawartha Lakes Fit Body Boot Camp, says that the boot camp workout is the perfect solution to two of the biggest issues in fitness today: lack of time and a lack of patience.
"People are working incredibly hard these days," says Francis. "They're working long hours and they're busy with family and community commitments. That makes it extremely hard for most people to stick to a consistent workout program."
Francis adds that our culture today also makes people impatient for fast results. "Between computers and cell phones, social media and instant credit, we've become conditioned to want everything right now," he explains. "That's one of the reasons the fitness boot camp came about, because it is a short, but intense workout that gets incredibly fast results."
That need for instant gratification is also what drives Kawartha Lakes Fit Body Boot Camp to offer its periodic Six Week Transformation Challenges. Each six week challenge is open to anyone who cares to sign up. The challenge comes with a long list of goodies, such as a nutritional plan, program guide, at-home training program and online support. There are also numerous prizes to help keep participants motivated.
"The biggest reward for the people who take our challenge is the transformation of their bodies. These are intense workouts and it's only six weeks," explains Francis. "But the results are incredible. It truly is a transformation process and that immediate gratification inspires people to keep moving toward their health and fitness goals, long after the challenge is over."
To help participants set their goals, each participant receives a physical evaluation, weigh-in and measurements taken at an initial, mandatory meeting. After that, participants must attend boot camp sessions at least three times per week, working closely with Francis and his team.
The next Six Week Transformation Challenge begins Monday, July 14, 2014, and the mandatory evaluation and kick-off meeting will take place Saturday, July 12th from 8am – 11am. Official registration begins June 30th and space is extremely limited, but visitors to the boot camp's website can register as early as June 23rd to ensure a spot in the challenge.
The Six Week Transformation Challenge will take place at Kawartha Lakes Fit Body Boot Camp, located at 50 Mary Street West (James Street Entrance) Lindsay, Ontario K9V 2N6.
"The results and responses we've gotten from the six week challenges have been amazing and fulfilling," says Francis. "We get just as excited about them as our participants do and we're ready to see some incredible things with this next challenge."
About Kawartha Lakes Fit Body Boot Camp
Kawartha Lakes Fit Body Boot Camp is part of the Fit Body Boot Camp family of indoor fitness boot camps, whose global goal is to engage 20% of the world's population in a healthy and fit lifestyle by the year 2020. Kawartha Lakes Fit Body Boot Camp is owned and operated by Corporal Sean Francis, BKin, CSCS, a certified strength and conditioning specialist, doctor of chiropractic and PTPower.com's 2013 Personal Trainer of the Year.
For more information about Kawartha Lakes Fit Body Boot Camp or the Six Week Transformation Challenge, please call (800) 643-0551, visit the Facebook page at https://www.facebook.com/events/125537190981433/?fref=ts or stop by the website at http://www.canadafitbodybootcamp.ca/kawarthalakesfitnessbootcamp/.