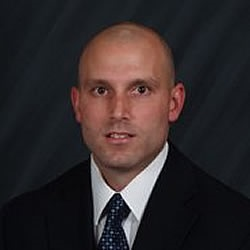 'With an impressive engineering background and years of increasing responsibility at the management level, Andy is both technically savvy and adept in sales and business development roles.'
Wixom, Michigan (PRWEB) August 05, 2014
Kawasaki Robotics (USA), Inc. proudly welcomes Andy Jones as its new Director, General Industries. Andy brings a passion for automation and robotics with a track record of building business through successfully managing engineering and sales teams and forging long lasting customer relationships. With full accountability for the sales and engineering departments of the general industries business unit for the Americas, Andy will operate out of Kawasaki Robotics' headquarters in Wixom, Michigan.
Andy began his professional career as a systems engineer at Applied Manufacturing Technologies (AMT), where he served for 13 years in varying roles of increasing responsibility, including engineering and business development management positions. As the General Manager during his final years with AMT, Andy led sales and engineering operations for the full-service robotic automation and engineering firm.
In 2012, he accepted the role of Global Segment Director with Comau, a worldwide leader in automation and service solutions, where he led global market strategy and business development activity for Comau's commercial vehicle business. Before leaving Comau, he was promoted to Global Sales Director, responsible for the company's global sales and business development efforts in all non-automotive segments, including aerospace, commercial vehicle, heavy industry, and renewable energy. In this role, he led a multinational group of regional sales offices in North and South America, East Asia, and Europe.
As Director of the General Industries business unit at Kawasaki Robotics, Andy will build on his multidisciplinary experience and put his considerable analytical and management talents to work as we continue to grow.
"With an impressive engineering background and years of increasing responsibility at the management level, Andy is both technically savvy and adept in sales and business development roles," said Yasuo Chihara, President of Kawasaki Robotics. "We're looking forward to leveraging his experience and talents to grow our systems integrator network and internal systems group."
Andy holds a Bachelor of Science in Electrical Engineering from Lake Superior State University and an MBA from the Ross School of Business at the University of Michigan.
About Kawasaki Robotics (USA), Inc.
Wixom, Michigan-based Kawasaki Robotics, a subsidiary of Kawasaki Heavy Industries, Ltd., Robot Division of Japan, is a leading supplier of industrial robots and robotic automation systems with a broad product portfolio, able to service a wide range of applications across diverse industries. With more than 110,000 robots in operation across the globe, the company has over four decades of experience at the cutting edge of the robotics sector and is renowned for producing the highest quality robots and most technically advanced controllers on the market. Kawasaki Robotics' sales and service offices are conveniently located throughout North and South America.