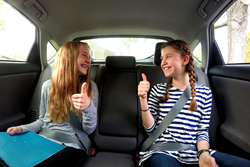 there's one thing every parent in the Boston area can do right now that will not only make their lives easier, but provide them the peace of mind that their kids are getting around safely; Ditch Uber and Lyft and use Zemcar.
Boston, MA (PRWEB) June 15, 2017
Zemcar's Advisor, Juliette Kayyem published her memoir Security Mom and has spent most of her professional life on empowering people to take their security into their own hands. "Whether it's being prepared for the next hurricane or empowering children in the event something happens, security starts at home," states Kayyem. Today she calls for every parent in the Boston area to make sure their kids are using rideshare safely. Zemcar is now operating in Greater Boston and is the only ride-sharing company in Massachusetts that is insured for unaccompanied minors. The most common ride hailing companies have terms and conditions that clearly state minors aren't allowed. Zemcar is specifically designed for families so that kids can ride alone. The company meets with, trains, and highly screens their drivers, going above and beyond the Massachusetts minimum standards. Parents can choose their drivers, and schedule rides, then access the world's first in-ride live stream video for added security through Zemcar's smartphone app.
Well known as a global security expert, Kayyem explains that Zemcar's platform is specifically designed for driving your tweens and teens around, and she suggests, "Zemcar has the potential to "make Massachusetts the safest place to get our kids around!"
To read the full remarks of Juliette Kayyem on "Why Parents Should Make Zemcar the Alternative to Uber," go to Medium at https://medium.com/@juliettekayyem/parents-help-make-zemcar-an-alternative-to-uber-fa7088a3d296