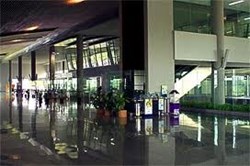 Krabi Airport is conveniently located on Route 4 of the main highway and is approximately 15 km from Krabi city centre.
(PRWEB) August 20, 2013
Phuket Airport's passenger traffic volume is expected to reach an estimated 10.5 million this year, which is well in excess of the airport's capacity of 6.5 million. To ease this burden, the Civil Aviation Department has decided to extend the operating times at Krabi Airport to 24 hours, which is expected to result in a doubling of passenger volume. Approximately 800,000 passengers travelled through Krabi Airport during the high season last year; it is estimated that this will increase to 1.69 million travelers during the six-month period starting on 1st October. Although the extended operating times will undoubtedly assist with the spillover in passenger traffic from Phuket, it will also help to deal with the increasing number of passengers wishing to visit Krabi.
Krabi Airport is conveniently located on Route 4 of the main highway and is approximately 15 km from Krabi city centre. The airport acts as a gateway for many popular Thai beach resorts such as Had Yao, Ao Nang, Rai Leh and Koh Lanta, which attract thousands of holidaymakers every year. The airport's potential for contributing to Thailand's booming tourist industry has been recognized over the past decade with a significant investment program, which resulted in new runway facilities and a new international terminal being developed during the period 2003 – 2005. The impressive four-storey terminal has the capacity to deal with 600 arrivals and 600 departing passengers in modern, well-designed surroundings. It is estimated that these improvements cost the Civil Aviation Department 743 million Baht, which bears witness to the importance placed by the Thai authorities upon providing modern airport facilities.
The decision to extend the operating times at Krabi Airport also comes following the Tourism Authority of Thailand's (TAT) decision not to include Phuket in its marketing plan for next year. It was felt that Phuket needed some respite from ever increasing tourism so that a number of necessary improvements could be made to its infrastructure. These improvements include resolving issues such as road congestion, together with updating its public transport system. The long-term plan is to make the island more appealing to those visitors seeking a high-class holiday destination, although TAT's decision is also intended to help increase the level of tourism in other provinces in Southern Thailand.
The beautiful province of Krabi is certainly an ideal destination for holidaymakers. The province is colorful and vibrant, and there is a broad range of attractions to be enjoyed. What's more, Krabi Riviera Co Ltd provides an excellent selection of holiday villas under the http://www.KrabiVilla.com website, all of which offer 5 star comfort, including private swimming pools, a personal concierge service, and some first-rate complimentary services.
With its up-to-date facilities and convenient location, Krabi Airport undoubtedly seems well placed to receive the spillover from Phuket, together with welcoming the many tourists wishing to enjoy the countless attractions that Krabi has to offer.