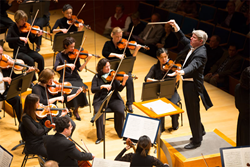 "This negotiation was the most rewarding in memory and I'm very proud of our accomplishments," Symphony Executive Director Frank Byrne said.
Kansas City, MO (PRWEB) June 09, 2016
Orchestra contract negotiations are often contentious and protracted. Not so for the Kansas City Symphony.
In eight meetings, Kansas City Symphony musicians and management renewed their four-year collective bargaining agreement to extend through June 2021. This renewal, completed May 25, was accomplished more than one year in advance of the expiration of the current agreement, which concludes June 2017. Not only did the musicians and management conduct negotiations in a collaborative atmosphere but the meetings, for the first time, also took place without the presence of attorneys.
Symphony leaders explained both parties chose this cooperative path based on years of positive relationships, and the outcome was remarkably successful.
"A stable and positive working environment is essential to artistic excellence and growth," said Symphony Board Chair William Lyons. "With this new contract, we believe we've set a new standard for a productive working relationship based on trust and transparency. Congratulations to both the Symphony's musicians and professional staff for ensuring the seamless continuity of one of Kansas City's great cultural assets."
The new agreement makes substantial investments in musician salaries and benefits, with a 19.7 percent increase over the 2017-18 through 2020-21 seasons. The current base musician salary for the 2015-16 season is $51,537. In the 2020-21 season, or the final fiscal year of the new contract, the base musician salary will be $63,315. This new contract also addresses scheduling and workload, a commitment to cover greater costs of family healthcare premiums, and improved long-term disability coverage.
"This negotiation was the most rewarding in memory and I'm very proud of our accomplishments," Symphony Executive Director Frank Byrne said. "Our record of success and our investments in organizational culture allowed us to have candid conversations that wisely balanced our dreams with our long-term objectives. We felt a sense of shared aspiration with our common goal to put the music first."
The negotiations also gave musicians and management the opportunity to formalize their goal of becoming a "destination" orchestra for musicians.
As chair of the Musicians' Negotiating Committee, Symphony trumpet player Brian Rood said he's proud everyone is committed to fostering the conditions needed to draw and retain top talent.
"We're confident that this new agreement will make Kansas City an even more attractive place for musicians to call home and allow the Symphony to achieve even greater artistic heights," Rood said.
Rood brought ample experience to the process, having participated in six previous negotiations and having served as president of the International Conference of Symphony and Opera Musicians (ICSOM).
"Typically, attorneys or outside negotiators are engaged to participate during orchestra negotiations," Rood explained. "Given the mutual trust and respect developed over the past 20 years between our Kansas City Symphony constituencies, members of management and the executive committee along with the Musicians' Negotiating Committee, we were able to discuss and agree upon new contract terms directly without the need for any outside participation."
Musicians' Committee chair and Associate Principal Horn David Sullivan reiterated the Symphony's cohesion.
"This new agreement is a public testament to everything I have experienced in the last four years of my committee service," Sullivan said. "It shows what's possible when everyone comes together to create an environment that extends well beyond mutual trust and understanding. This organization is a family in the truest sense of the word, and I feel grateful and proud to be able to call it and this wonderful city my home."
Music Director Michael Stern concurred.
"This new agreement represents far more than just a fair and positive negotiation — it's inspirational," Stern remarked. "Together, the musicians and management changed the conversation and the culture, which reflects the spirit of the entire organization. I'm honored to be part of this great team."
The Kansas City Symphony's positive outcomes also extend to other areas of distinction. The Symphony not only has balanced its budget for nearly 20 years, but also has posted a modest surplus in each of the past four years — and is expected to again for the 2015-16 season. Since the 2011 opening of the Symphony's performance home, Helzberg Hall at the Kauffman Center for the Performing Arts, the Symphony has posted high-sold capacities and increased ticket revenues season after season. Furthering its "destination" reputation, the Symphony has for each of the past five seasons attracted attendees from nearly all 50 states, Washington, D.C., Guam, Puerto Rico, and a dozen foreign countries. The Symphony presents more than 100 performances each season and serves as the orchestra for the Kansas City Ballet and Lyric Opera of Kansas City. More information is available at kcsymphony.org