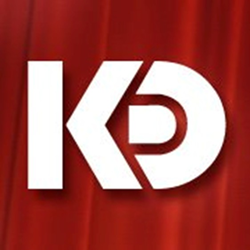 For over 30 years, KD Studios acting classes & acting programs have been helping artists hone their craft
Dallas, Texas (PRWEB) September 25, 2015
Lights, Camera, Action! What does anyone get from an Associates Degree in Acting from KD Conservatory (http://www.kdstudio.com/our-programs/degreed-programs/acting-program/)? An executive position at NBC Universal, becoming an internationally known mosaic artist traveling the globe, best-selling author and talk show host, Casting, Producing successful television shows and films, and of course, becoming an award-winning actor.
According to Darren Wadyko, after graduating from KD Conservatory in Dallas, Texas, his love for acting took him to Hollywood and within a short time found himself working as an agent for the Cosden Agency in Los Angeles and later casting for Nickelodeon. It wasn't long before his career advanced and he started producing for Lynch Siderow Productions, and then as Director of programming for NBC Universal's, G4 Media. Currently, Darren is Director of Programming and Development for Scripps Howard Interactive, Inc. Most recently, he wrapped a series he produced for the Scripps Howard network with host, Betty White.
After graduating from KD Conservatory, Xavier Zamarripa took his acting skills in a different direction; into the world of mosaics and glass blowing. He specializes in creating custom mosaic swimming pools for an international clientele including Dallas Cowboys owner, Jerry Jones, NASCAR's Teresa Earnhardt, former San Francisco 49ers owner Edward DiBartolo Jr., and Asim Abdullah, owner of the haute couture house of Emanuel Ungaro. Xavier credits KD Conservatory for giving him the skills it takes to interact with the wealthiest of the wealthy. According to Xavier, "I use the acting skills I received from KD everyday. Without it, I would never be as successful as I am today."
Johnny Wimbrey graduated from KD Conservatory (http://www.kdstudio.com/) in 1994. After graduation he too, took his love for acting into a different direction – reaching others through the written word. Johnny has proven to be a dynamic author, writing a best-selling book, From the Hood to Doing Good, and co-authoring several volumes of Multiple Streams of Inspiration and Conversations on Success. Johnny also anchors Think and Win Big, a powerful DVD collection offering mental strategies and wisdom for success. Wimbrey has a new release available through Amazon in the fall of 2015. Johnny has credited KD Conservatory for giving him the skills to interact and reach others.
KD Conservatory is extremely proud of all our Acting graduates and we would love to recognized your accomplishments as well. Visit http://www.kdstudio.com/ for more information.
About KD Conservatory
For more than 30 years, KD Conservatory has been dedicated to the development of acting skills and motion picture production technical skills and to the creation of avenues into the professional world of entertainment. A subsidiary of KD Studio Inc., which offers an Associate of Applied Arts (AAA) degree program in acting, KD Conservatory has been rated "Exemplary" by the Texas Higher Education Coordinating Board. The school is accredited by the National Association of Schools of Theatre (NAST). For more information, visit http://www.kdstudio.com.
Located: 2600 N. Stemmons Fwy, Suite 117, Dallas, Texas 75207 | 214-638-0484 | KDSTUDIO.COM