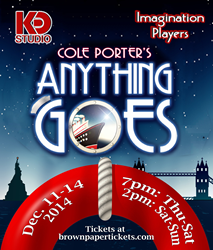 College of Film and Dramatic Arts Presents "Anything Goes"
Dallas, TX (PRWEB) November 20, 2014
This show is an amusing story wrapped around one of Cole Porter's magical scores. Terrific Cole Porter songs include "It's De-Lovely", "Friendship", "I Get A Kick Out Of You", "All Through The Night," "Anything Goes", "You're The Top" and "Blow, Gabriel, Blow".
Anything Goes is directed by Mark C. Guerra, choreographed by Stephanie Butler with music direction by Lynn Ambrose.
Join Imagination Players in their production of Anything Goes at KD Studio Theatre/Trinity River Arts Center December 11-14 , 2014. Advance tickets are recommended and can be purchased at http://www.brownpapertickets.com. Prices for adult tickets are $15 and students are $8.
About Imagination Players:
Designed to encourage teamwork, personal integrity, self-esteem, and a life-long appreciation for live theatre, Imagination Players is a year-round performing arts training program for young people ages 6-19. Imagination Players students participate in classes, workshops and full-scale productions. All performances are by Imagination Players students and classes are taught by professional theatrical instructors.
About KD Conservatory:
KD Conservatory(http://www.kdstudio.com/) has been preparing students for work in the entertainment industry through our acting, musical theater, and filmmaking programs for more than three decades. Since our inception in 1979, we have sent thousands of students into the professional world. Our alumni have gone on to land some pretty high-profile jobs - Glee, CSI, and Disney′s Camp Rock, just to name a few. We also offer acting classes and workshops for adults, as well as acting classes, and summer camps for children.
Prior to founding KD Conservatory, CEO Kathy Tyner spent 15 years at the Kim Dawson Agency, working as a producer, booking agent, and general manager. President Gary Tyner Jr. has more than 20 years of experience with Texas career schools. Additionally, the KD Conservatory faculty has a wide variety of experience - ranging from former Broadway musical cast members to the producer of the pilot of the hit TV show Dexter. Their expertise combined helps ensure a stellar educational outcome for all who walk through our doors.
KD Conservatory (http://www.kdstudio.com/) is accredited by the National Association of Schools of Theatre, and our acting degree program has been rated "Exemplary" by the Texas Higher Education Coordinating Board. We offer Associate of Applied Arts degrees in Acting Performance, Motion Picture Production, and Musical Theatre.
What: Anything Goes
Directed by Mark C. Guerra
Choreographed by Stephanie Butler
Musical Direction by Lynn Ambrose
Where: KD Studio Theatre
Trinity River Arts Center
2600 Stemmons Frwy
Suite 180
Dallas, TX 75207
When: December 11-14 , 2014
Thursday through Saturday 7 pm
Saturday and Sunday 2 pm
Tickets: $8 Students-$15 General Admission
ON SALE NOW http://www.brownpapertickets.com