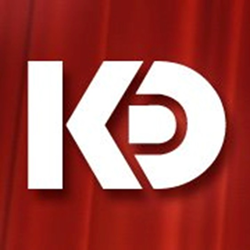 "The best thing about KD Conservatory is an instant network! It's all real, everything we do is geared toward one thing, getting a job. The teachers hold nothing back and that is exactly what we need." Matt Fowler
(PRWEB) December 15, 2014
KD Conservatory will be hosting an Open House on Wednesday, December 17, 2014 at 6pm for college hopefuls. The open house will include tours of the facilities, a presentation from department heads, a screening of student films and acting exercises.
KD Conservatory is a 15 month program that offers hand-on instruction for the student who is serious about entering the entertainment field. The instructors currently work in the industry and offer very relevant information on how to break into the business with real life experience and knowledge.
KD offers acting classes in film, stage, television, commercials and voiceover. They provide a solid foundation in production including cinematography, lighting, editing, sound and screenwriting. Their musical theatre program has an intense instruction based in Broadway style singing, dancing and acting.
About KD Conservatory:
KD Conservatory (http://www.kdstudio.com/) has been preparing students for work in the entertainment industry through our acting, musical theater, and filmmaking programs for more than three decades. Since our inception in 1979, we have sent thousands of students into the professional world. Our alumni have gone on to land some pretty high-profile jobs - Glee, CSI, and Disney′s Camp Rock, just to name a few. We also offer acting classes and workshops for adults, as well as acting classes, and summer camps for children.
Prior to founding KD Conservatory, CEO Kathy Tyner spent 15 years at the Kim Dawson Agency, working as a producer, booking agent, and general manager. President Gary Tyner Jr. has more than 20 years of experience with Texas career schools. Additionally, the KD Conservatory faculty has a wide variety of experience - ranging from former Broadway musical cast members to the producer of the pilot of the hit TV show Dexter. Their expertise combined, helps ensure a stellar educational outcome for all who walk through our doors.
KD Conservatory (http://www.kdstudio.com/) is accredited by the National Association of Schools of Theatre, and our acting degree program has been rated "Exemplary" by the Texas Higher Education Coordinating Board. We offer Associate of Applied Arts degrees in Acting Performance, Motion Picture Production, and Musical Theatre.