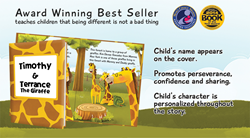 Terrance the Giraffe personalized children's book wins 2014 book of the year award.
(PRWEB) August 12, 2014
Awards are a thing of prestige. They are often symbols of mastery or achievement bestowed by a panel of elite judges, but when it comes to the Creative Child Magazine's Award Program these merits are chosen by someone more important: the consumer. This year, the program has awarded KD Novelties' Terrance the Giraffe 2014 book of the year. KD Novelties specializes in crafted unique personalized children's books, music CD's and photo DVD's but this book has proven the worth of such products to kids and parents alike.
Terrance the Giraffe is a personalized book from KD Novelties that aims to help kids cope with bullying. Whether they have been a victim of bullying, have bullied, or simply witnessed bullying in their lives, this personalized story aims to help kids sympathize with the matter at hand. The book places the kids right into the story as Terrance's friend as they help him deal with bullying for being different. Throughout the course of the story, Terrance learns to accept himself and overcome his problems.
Terrance the Giraffe sets kids on a personal journey that teaches them just how hurtful bullying can be. Whether kids sympathize with Terrance or realize that they have made fun of kids like Terrance was made fun of, they will find that the message still rings true. Since the story is personalized, kids who have been victims of bullying can truly connect with Terrance and those who have witnessed or partaken in the act can see the issue from the other side, understanding just how harmful their behavior can be.
The people who voted for Terrance the Giraffe are parents, educators and others. Terrance the Giraffe really spoke to the members of this panel, spreading its message to both children and adults. Personalized books have shown to have a significant impact on kids' attitudes towards reading, but this book has also proven to help shape kids' views about bullying and kindness as well.
KD Novelties is an award winning publisher of personalized children's books and their goal is to put smiles on children's faces while boosting their self-esteem and promoting literacy in a unique way.