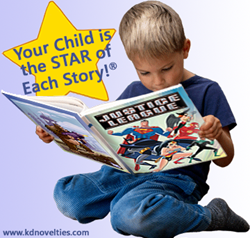 Personalized Kids Books encourages boys to read because they can see themselves reflected in the story.
(PRWEB) March 06, 2014
KD Novelties publisher of personalized kids books encourages parents and guardians to help boys become better readers and to eradicate the statistics.
Boys are often encouraged to participate in physical activities rather than stationary ones such as reading, which is why girls perform better in this area. Boys' interests are very different from girls as they need to see themselves reflected in what they read. They prefer action-packed adventures and print rich content such as comics and super hero adventures. KD Novelties provides a wide range of kids personalized books that features children as the stars of their very own adventures. Their books range from super heroes, to sports, dinosaurs and many more non-fiction adventures. "We believe our personalized kids books will encourage boys to read because they can see themselves reflected in what they read which will ultimately spark their interest and motivation to want to read," says Kim Delgado of KD Novelties.
KD Novelties provides tips on understanding why boys have lost their interest in reading and scoring low on exams, as well as ideas on how to re-energize that spark in boys to wipe out the statistics, and make boys want to read and enjoy it too.

The books that are recommended for boys to read by school officials simply don't appeal to them. As stated boys crave for action-packed adventures. Let them choose what they want to read. KD Novelties advises to check out their customized children's books that will sure spark interest in any child.
Provide the right environment by involving boys into boy book clubs – check your local library for clubs and events. While at the library make sure they obtain their very own library card and let them choose their own book to checkout. This provides them the sense of responsibility and accountability to read the books that they have chosen.
Boys don't have enough positive male role models for literacy. The majority of adults involved in reading are women; therefore boys might not see reading as a masculine activity. Experts say that boys need role models such as other boys or men that they can see reading. It's important for Dads and male guardians to be seen reading and recommending books to them as well.
Make it a habit to read for at least 15-30 minutes a day, every day. Instill this practice in households and it will come naturally to the kids. Read to them too and make it fun. It's important to read to children because they become readers on the laps of their parents.
Schedules can become hectic and it is very easy to put aside reading time with the kids. Make an effort to provide the time to allow kids to read what they would like to read. The more reading they do the more engaged they will be and parents will notice an improvement in time allotted for homework assignments and project completion.
KD Novelties has been selling and publishing children's books for over 10 years as well as providing the resources and tips for parents to instill a love of reading in their children.
For more information, visit their website at http://www.KDNovelties.com.