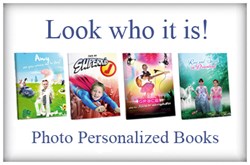 Kids need to identify with characters they read about and books featuring themselves can help build self-confidence and self-esteem.
Monroe, New York (PRWEB) February 14, 2014
Reading is a fundamental academic skill that comes in handy even when we're simply having a conversation with another person. While acute reading and reading comprehension skills directly link to academic success, the ability to communicate and connect with others is also linked to a positive self-image. Reading can help provide success in both areas. A proficiency in reading not only bolsters school performance but can also bolster self-esteem.
1. Read with and to children. No matter what their age, it's important to share the experience of reading. It not only conveys the importance of reading but links it with a positive emotional relationship experience. Sharing stories not only encourages kids to read on their own, but also encourages them to share their stories and value quality time with those they share their experiences with. This positive link between love and learning stimulates a positive relationship with both concepts in children.
2. Find out what they are interested in. Kids are more likely to read something that interests them, and given the wide variety of books to choose from there is bound to be something that appeals to their hobbies or areas of interest. A book that interests them can further their excitement on a subject, bettering their performance at school. Additionally, when kids get excited about what they're reading and what they're learning, they build confidence in their own knowledge and reading ability.
3. Encourage them to read out loud. Reading out loud helps improve reading ability, proficiency and word pronunciation. It also helps build vocabulary and a sense of voice. The better kids are at reading and identifying words, the more likely they are to read on their own and to explore new ideas. The more comfortable kids are at speaking, telling stories, and reading out loud, the more comfortable they are communicating and expressing themselves. The ability to do so builds an incredible amount of self-esteem and self confidence.
4. Ask your kids about what they are reading. Kids develop key comprehension skills when asked to think critically about what they read. Not only that, but it helps them think critically about life events and the stories they hear from others. Being asked about the plot and characters in a story can also have a lasting impact on them. What characters do they identify with? What qualities do the characters have that they admire? This helps build character and will affect their self-image. If a character is struggling with something, kids can identify and can more easily find the confidence to overcome it on their own.
5. Personalize it! A personalized storybook, such as those published by KD Novelties, portrays children in a variety of stories and situations that help build a positive self image. "It is important for kids to identify with the characters they read, and if kids have a hard time identifying with fictional characters, showing them a book about themselves can help them build interest in other books as well as build self confidence," says Kim Delgado of KD Novelties. Seeing themselves in positive roles helps motivate kids and encourages them to explore and to believe in themselves.
KD Novelties is a publisher of personalized kids books and gifts. They provide a tremendous amount of reading resources and tips for parents to get kids to read more, love it, and not fall behind in school and in life. All of these resources can be found on the KD Novelties blog.