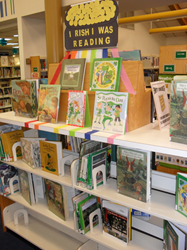 The main goal is to celebrate and have fun during the holiday but most importantly always make time to bring reading into any activity
Monroe, New York (PRWEB) March 14, 2014
1. Arts and crafts are a great activity for any holiday. They help kids learn and better understand the traditions of the holidays they are celebrating and let's them become a part of it. One great activity is to make leprechaun hats and beards out of construction paper or felt to be worn all day or to play dress up games with. Plus, the photos of kids wearing these will be priceless.
2. Bake themed cookies! Use cookie cutters to create four-leaf clovers, rainbows and pieces of gold. Use icing to creatively decorate these baked goods and let the kids get in on the action.
3. Break out the Books! Reading about St. Patrick's Day is another great activity. This will teach kids about the holiday they are participating in, whether they read books about leprechauns and rainbows or kid's books on St. Patrick himself. Kids are more likely to read if they have a book on a subject relevant to their current lives, such as a holiday they are celebrating or a milestone they are aiming to accomplish.
Reading personalized books published by KD Novelties, can help inspire kids to get outdoors. Their personalized adventure books such as My Fishing Adventure, My Camping Adventure or My Tea Party can help inspire kids to move their activities outdoors and enjoy the fresh air. Have a St. Patrick's Day themed tea party outside or catch some fish to accompany a St. Patrick's Day dinner!
4. Make a rainbow road to the front door! Kids can use colored chalk to draw rainbows on the sidewalk or driveway for leprechauns to find. This will help them get outdoors and get creative!
5. Eat Green for the Day! Prepare naturally green foods such as peas, avocados, and broccoli. However, parents can get creative and add green food coloring to mashed potatoes, scrambled eggs, jello or even lemonade.
"The main goal is to celebrate and have fun during the holiday but most importantly always make time to bring reading into any activity," says Kim Delgado spokesperson for KD Novelties publisher of personalized kids books.
**For more St. Patrick's Day activities visit their blog at http://www.KDNovelties.blogspot.com **
KD Novelties has been publishing and selling personalized books for kids for over 10 years and are advocates of promoting literacy to children in a unique way that will make it enjoyable for them to love reading.