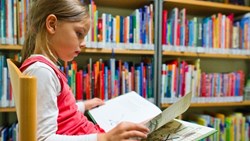 Reading is difficult but comes with practice, but that practice does not simply come from reading alone
Monroe, New York (PRWEB) February 21, 2014
Reading is a fundamental skill for learning. It opens up the avenue for learning math, history, science and any of their specializations. However, more than likely young readers simply recite words they have memorized without taking in comprehension. Reading comprehension is key to academic success, no matter what the subject, and also has a key role in communication. "Reading is difficult but comes with practice, but that practice does not simply come from reading alone," says Kim Delgado of KD Novelties.
1. Teach the meaning of words. Even if a child can read a word and sound it out phonetically, it may not mean they understand what they are reading. As children learn new words, express the word's meaning to them or teach them how to look up unfamiliar words in a dictionary. They will grow a better sense of reading comprehension and build their vocabulary. The more words a child understands, the more complex and diverse their vocabulary and language skills will become, which is vital for understanding and communicating with others.
2. Ask them about what they are reading. Ask kids about the main characters and ask them what they think may happen next and why. This gets children to think about what they are reading instead of merely reciting or recognizing memorized words on a page. This also helps ensure that they understand the concepts and ideas portrayed in the book, not just the words.
3. Encourage them to read new books. Providing children with new reading material exposes them to new ideas, concepts, and words. Reading an unfamiliar book helps kids become more familiar and comfortable with new words, sentence structures and story concepts, broadening their understanding.
4. Encourage kids to reread old favorites. While kids can learn a lot by reading new books, kids can still learn from ones they know. Ask kids to look for things they may have missed or not noticed their first time reading. This way they learn how dynamic words and stories can be and aids in opening their minds to different perspectives, which greatly helps their reading comprehension skills.
5. Ask them to read aloud. Reading aloud can help build confidence in speaking as well as reading. Kids can learn proper pronunciation as well as how to correctly use new words in sentences. They learn how the flow and expression of a sentence has just as much weight as the words on the page. This helps their intrapersonal communication skills and allows them to better express themselves.
KD Novelties has been publishing and providing personalized kids books to children of all ages for more than 10 years. Their goal is to making reading fun by personalizing a child's experience with their very own story while promoting literacy. Their books are sure to encourage and intrigue reluctant readers who have given up on reading. Check out their website at http://www.KDNovelties.com for more information.