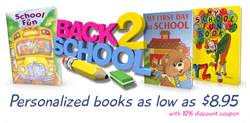 Reading personalized school books will get kids excited about entering and starting a new school year.
Monroe, New York (PRWEB) August 21, 2014
Summer is a magical time for kids. As adults, some may remember summers stretching into an eternity when younger, so going back to school may come as a bit of a shock. Establishing a routine and mode of thinking and behaving may be difficult for some kids, especially younger ones who have not yet begun school. August is the month where back to school sales begin to pop up everywhere and serves as a great time to get kids acclimated to their new school schedule and to get them excited for school.
1. Read personalized school books with them. Getting kids excited may be a great launching pad for getting them geared up for school itself. Once they are enthusiastic and looking forward to the change, they may be more receptive to other preparations as well. One great way to do this is to read personalized books with them, such as those from KD Novelties. Books such as "My First Day at School", "My School Fun Book", and "School is Fun" can help them better imagine themselves in school. While kids are still developing their ideas and trying to imagine themselves in a future tense, these books can help make those ideas more tangible.
2. Go school shopping with them. Having kids pick out their own school supplies can be a big motivator. Even if they do not have their class supply list yet, they can pick out a new backpack, lunch box and their first day back to school outfit. The promise of using these new, fun items can really inspire them to get ready for school in other ways and gives them something fun and personal to look forward to.
3. Start a routine. If there isn't a morning routine set up or parents have let it go for the summer vacation, now is the time to establish one which can help those first few weeks back to school a great deal. Begin going to bed and waking up the time they usually would during the school year, and have kids participate in the preparation, whether it's getting an outfit together, making breakfast or packing a lunch.
4. Plan activities. Many kids spend their summers running around having multitudes of imaginative adventures. This mindset is perfect for summer but may be difficult to tame once school starts up. Planning and scheduling things like reading, making arts and crafts, and other more quiet, sit-down based activities can get them back into the school mindset. Even giving them educationally based activity books can help prepare them for school work while still having fun with it.
5. Do Some Home Schooling. There are plenty of fun ways to learn at home and introducing kids to educational shows, movies, and books can be a great way to get them excited to learn again. Plan trips to museums, planetariums, national parks and historical sites as a way to see the summer off, and to embrace what kids might learn during the school year.
For more tips and resources on how to get kids ready for school, reading resources and promoting literacy visit the KD Novelties Blog.