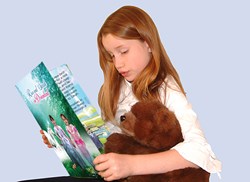 It's always fun for a kid to see their name printed in a book and their character tied into the story. KD Novelties does a great job of doing just that! - Christin Banda author of the ABCD Diaries Blog
Monroe, NY (PRWEB) September 05, 2013
"The first thing, the last thing, and everything in between that your child's teacher will tell you," says Kim Delgado, owner of Personalized Children's Book & Gifts by KD Novelties, based in New York, is that "reading to your child for 20 minutes a day is all that it takes," adds Delgado, who is known for providing innovative and exciting personalized children's books.
Adding that personalized books provide hours of reading entertainment for children, Delgado says they provide an easy and fun way of promoting literacy because the books feature the child as the hero in the story and assists in building up self-esteem in children.
According to Delgado, personalized books aren't just designed to encourage children to read, but seek to enhance both their self-esteem and self-image primarily because they are the stars of their very own story book.
"When you give the gift of a personalized book this back-to-school term, you are instilling a lifelong love of reading," notes Delgado, who invites parents, guardians and teachers to come browse through their titles to discover the magic that personalized books can bring to their loved ones.
Even though some of the personalized books for kids feature popular characters that children love, they present a unique and creative way to promote literacy in children.
"Our personalized books are known to spark enthusiasm even in children that have lost interest in reading," says Delgado, who also provides personalized music where popular characters sing the child's name they know and love and makes them feel special.
Interestingly, their photo DVDs collection also provides the means for children to become their own stars of their very own cartoon adventure, which is sure to bring enjoyment to a child.
Besides personalized books, music, and DVDs, KD Novelties see their mission as a promoter of literacy by providing personalized books and gifts that children will want to keep for a lifetime. "We truly believe in Making Reading Fun!" notes Delgado, who wants parents, grandparents and guardians (anyone with small children in their lives) to know that providing personalized products to their little ones becomes a tremendous self-image booster.
Delgado believes that sharing the love of reading with the new generation, with a bit of flair, is one of the best legacies that can be given to children.
With their two two-fold benefit of promoting literacy and building self-esteem - personalized books teach while they entertain and make children feel special about themselves. "Our goal is to touch children's' lives through personalization, one child at a time," stresses Delgado, whose site offers parenting resources, reading tips and informative articles on their blog about literacy and much more.
KD Novelties has been in business for 13 years and has been promoting literacy to kids of all ages. They are family owned and operated and have an A+ ranking from the Better Business Bureau. For further information about personalized books, music, and DVDs, and the tremendous benefits they hold for children's literacy, please contact us or visit the KD Novelties website.