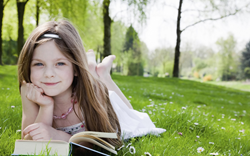 It is suggested that children read about 6 books during the vacation in order to keep up with their reading level before the new school year starts.
Monroe, New York (PRWEB) June 20, 2014
The summer months are finally here and kids could not be more excited. Spending time playing outdoors, going to barbecues, having fun in the pool, and going away on vacation are some of the things that everyone looks forward to once school is out. However, with all of these distractions, kids can easily fall behind in their academic skills. Kids are susceptible to falling behind in their current reading level over the summer vacation because they are not engaged with books. Whether it is because they are too distracted playing outside or now associate reading with schoolwork, there are ways that parents can help bolster their child's reading skills to keep them sharp throughout the summer.
Some children love reading while others are more reluctant. Engage children in reading with the following tips.
1. One of the most popular summer activities is summer vacation. Incorporating educational trips, such as trips to historical sites or locations, or trips to the science, history or art museums is a great way to keep kids learning as well as reading. Ask kids to read the little blurbs accompanying each exhibit, ask them questions about the things they see and learn on the trip. Make a scavenger hunt out of a museum visit; this will help inspire kids to not only use their reading skills but will also engage their critical thinking and reading comprehension skills as well.
2. Read to them nightly. Even if parents read their children to sleep, it is a shared activity that kids can look forward to because they are sharing one-on-one time with their parents. Having them read along, read certain paragraphs or passages, and answering reading comprehension questions at the end of each book or chapter does a lot to keep kids reading and thinking. When it is a shared activity, kids are less likely to view it as schoolwork and will have fun sharing a special moment with mom or dad.
3. Prompt them to make crafts. Asking kids to create, work with their hands, and use their imaginations exercises the same skills kids need to read. Additionally, parents can ask their kids to write about what they made and why to get their writing skills prepared for the next reading tip.
4. Writing skills are an important facet of reading and can enhance their reading comprehension and communications skills. Ask kids to keep a summer journal of their daily activities. Ask them to read what they wrote the day before or to write poems and stories that they can then read aloud to the family. When reading is a shared activity, it can become more engaging and fun for kids, especially those who may find it boring.
5. It is crucial to have kids read actual books over the summer. "It is suggested that children read about 6 books during the vacation in order to keep up with their reading level before the new school year starts," says Patti DeWalt, 3rd grade teacher, Orange County, NY School District. If kids are a bit reluctant to read on their own, then KD Novelties publisher of customized books for kids can help. Personalized books and stories can help inspire kids to read. Children are more likely to read a book if it relates to something going on in their lives, and a story that features them as the main character, is guaranteed to grab, and keep their attention.
It's important any time of the year to always keep kids' brains engaged, with the goal of making it fun and enjoyable for them. For more information on reading during the summer months be sure to visit the KD Novelties blog.