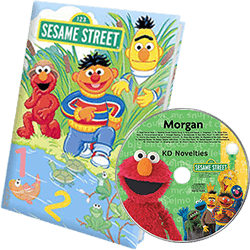 Our mission is to promote literacy in a unique and special way
Monroe, New York (PRWEB) December 14, 2013
KD Novelties was featured on CBS New York as part of their Holiday Gift Guide for Personalized Gifts. Adding a personal touch to a gift makes it even more thoughtful of a gesture, making the holiday more memorable for years to come. The segment featured these personalized kids music CDs and storybooks from KD Novelties which make kids the star of their own story and music CD. These personalized CDs and books come in a variety of themes, featuring a wide array of kids' favorite characters and stories. With their name inserted into the music CD, kids can feel like they're a part of the stories they listen to and that their favorite characters are just as excited to say their name. Hearing their name spoken and sung by their beloved characters can boost a child's self-esteem and self-confidence. They know they're a part of something extraordinary and special, and can truly immerse themselves in the music they listen to and the stories they read along to.
"Our overall mission is to promote literacy in a unique and special way and we do just that by providing personalized kids books and music that both parents and children alike will treasure for a lifetime," says Kim Delgado spokesperson for KD Novelties. That special feeling of "this is just for me!" will set personalized gifts apart from other toys. They'll remember how it felt to hear their favorite characters say their name for the first time and they'll remember that rush of excitement.
KD Novelties currently has a holiday promotion offering FREE shipping on orders of $50 or more and a FREE personalized Santa letter with the purchase of their personalized Santa book. Their Christmas deadline is December 20, 2013.
KD Novelties has been in business for 13 years and has been promoting literacy to kids of all ages. They are family owned and operated and have an A+ ranking from the Better Business Bureau. For further information about personalized books, music, and DVDs, and the tremendous benefits they hold for children's literacy, please contact them or visit the KD Novelties website.