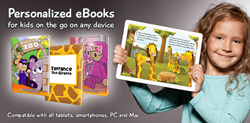 Introducing personalized stories in the format of an ebook creates a powerful literary impact for children.
Monroe, NY (PRWEB) May 30, 2014
Digital devices provide more than just entertainment. They also have the immense power to promote literacy. Though many people may believe that the proliferation of electronic devices, apps, games and countless other digital distractions are just that, distractions, they are actually much more than that. Studies have shown that children's growing interest in such devices have a huge impact on their literacy skills.
According to a recent ebook vocabulary study conducted by the Society for the Scientific Study of Reading indicate that ebooks are likely an effective tool for early literacy development with children especially those in under resourced schools. The combined act of looking, listening and touching involved in interacting with e-text stimulates early literacy and learning in kids. The study also found that children utilizing ebooks learned 21% and 46% percent more expressive and receptive words respectively than their control condition peers.
Children are entranced with electronic devices. The medium of such tools encourages that they actively look, and also begs them to interact. This is why interactive ebooks are becoming an integral part of promoting children's literacy. While games and other informational tools can promote literacy in children, ebooks and other digital print can help garner kids' attention when it comes to reading unlike traditional print materials. Though interacting with physical objects is an important part of learning for young, developing children, digital devices invite kids to interact and engage independently unlike other tools.
KD Novelties, specializing in personalized children's books, has recently introduced their new personalized ebooks collection. Not only will these books keep kids entertained and hold their attention because of their format, but these books are specially designed to star the kids themselves. Personalized books have been known to help promote a personal relationship with stories and books in young readers, and now in an ebook format these individualized stories have even more of a literary impact. The ability to read, especially in young kids, promotes a lifelong love of learning. "Introducing this concept in the format of an ebook helps promote literacy across all media, encouraging engaging interaction with all forms of information, no matter the medium," says Kim Delgado of KD Novelties.
KD Novelties has been publishing personalized children's books for over 10 years and believes in promoting literacy to children in a unique and interactive way. For more information and reading resources check out their blog.