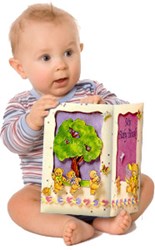 Personalized Books enhances the reading experience making it unique for the child because the story is about them.
Monroe, New York (PRWEB) January 17, 2014
It's never too early to get into a story, and babies are no exception. While babies may not fully understand the concept of a book, it's important to let them explore and experience books. Not only does it help their recognition skills but can lead to an early independent interest in reading.
How Do Babies Learn?
All babies have good recognition memory and novelty preference so they likely enjoy looking at pictures and word cards with their parents. Perceiving patterns and connecting symbols with meaning is what reading is all about. Babies and toddlers likely begin as right brain readers who pick up reading as easily as they pick up three languages, if all three languages are spoken by their caregivers between birth and age 3. If one waits until age 6, it's not so easy for the child to pick up three languages simultaneously. The baby brain, not the 6-year-old brain, has special language and reading capacities.
Since babies use all of their senses to learn letting them experience a book in their hands can help children create a positive relationship with books for life. If they are receptive to learning languages during their first three years of life, they are also more receptive to reading as well. But how does one start?
1. First, read to them! KD Novelties provides personalized baby books that not only incorporates the baby's details but provides name recognition as the child hears their name spoken out loud repeatedly. "Personalized Books enhances the reading experience making it unique for the child because the story is about them", says Kim Delgado spokesperson for KD Novelties.
2. Reading to children early on when they can grasp words and pictures and piece them together is the secret! Getting babies used to their caregiver's voice and used to storytelling will also help their language and speaking development.
3. Baby books are geared to be read and looked along with, and the visual cues along with a parent's narration can help bridge the language gap in developing minds. Touch-and-feel books are great in that they openly invite babies to interact with them. Remember to be patient. Babies will be babies and they learn best when they explore on their own, building a sense of independence. Find the right moments to sit with them and expose them to the wonderful world of reading.
KD Novelties is a publisher of personalized kids books and have been bringing smiles to children for over 10 years making them the star of their very own story. For more information visit them at http://www.KDNovelties.com.