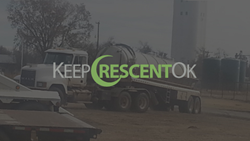 My family's roots to Crescent trace back almost 100 years and I know citizens want our city to prosper, but not at the cost of our personal property values or well-being.
Crescent, Okla. (PRWEB) April 30, 2015
Citizens of Crescent, Oklahoma recently launched Keep Crescent OK, a community campaign to raise awareness and inspire positive environmental action in response to potentially harmful, industrial activity happening in a residential area of the city.
Inspiration for the initiative began in September of last year when 79-year-old Crescent-native, Olether L. Patmon-Toliver, witnessed large volume water trucks, dirt hauling trucks and flatbeds drive and park near her residence. The number of trucks continue to increase, cause loud, disruptive noise, and emit harmful fumes.
"The piercing noise from trucks awakens me, at 7 a.m., every morning," Toliver said. "Since the trucks arrived, I can see smoke seeping in through my window and air conditioning vents, and I've developed severe headaches. We must protect Crescent's 'rolling hills' and 'great history' and we have the right to know what is happening in our neighborhoods."
Multiple residents say neither City of Crescent nor Logan County officials have been helpful or responsive to questions about the activity in the area or provided information on how the area was zoned for heavy equipment without input from the impacted residents.
"My son contacted the city manager who referred us to the company that owns the trucks," Toliver said. "He has followed-up with both contacts multiple times over the past eight months, but we still haven't received any information if it's zoned properly or what to expect in terms of future plans for the site. My family's roots to Crescent trace back almost 100 years and I know citizens want our city to prosper, but not at the cost of our personal property values or well-being."
Toliver's family owns several parcels of land in Crescent. She said the city has allowed industrial type facilities, including a lubricants storage facility, to encroach on her neighborhood before without any involvement of the residents who live nearby.
According to an article published in Finance & Commerce, this type of industrial activity could have an impact on residential property values. The article states, "Generally, land that is zoned industrial may be worth significantly less than land zoned for residential use, which in turn may be valued less than property for commercial or retail use." Multiple universities and real estate groups have also published research studies with the same findings.
"The legacy my grandparents started and I plan to leave to my children is now at risk," Toliver said. "In addition, the environmental and health hazards threaten the Crescent promise to be 'one of the safest places in America to raise a family.' That's why we are inviting everyone to join our movement to keep our community healthy and prosperous."
Keep Crescent OK has already gained traction across social media and recently launched a website, KeepCrescentOK.com, to raise awareness and get more citizens involved. The website allows visitors to join the movement by inviting them to participate in a community dialog and providing contact information of local government officials they should contact to help obtain information and drive awareness.
For more information about the campaign, visit KeepCrescentOK.com and connect on Twitter, Instagram, Tumblr and Facebook under the handle @KeepCrescentOK.
About Keep Crescent OK:
Keep Crescent OK is a movement committed to raising awareness and inspiring positive environmental action in Crescent, Oklahoma. Concerned citizens founded this movement in light of recent, unidentified industrial activity that is feet away residential homes. Our mission is to create a meaningful impact by educating and empowering the entire community to participate in open dialog to foster effective change and stay informed. Join us at http://KeepCrescentOK.com or on Twitter, Instagram and Facebook under KeepCrescentOK.
###