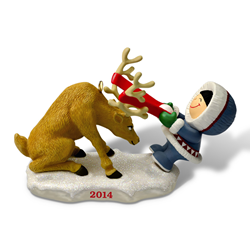 "We want people to celebrate and share their memories with Keepsake Ornaments," said Nicole Reid.
Kansas City, MO (PRWEB) July 02, 2014
More than 200 new Keepsake Ornaments will be unveiled during the annual Hallmark Keepsake Ornament Premiere beginning Saturday, July 12, and Sunday, July 13, at Hallmark Gold Crown® stores nationwide. The annual event gives consumers a first chance to purchase Keepsake Ornaments from the all-new 2014 line.
"Keepsake Ornament fans have anxiously been awaiting the premiere of the 2014 collection," said Nicole Reid, retail merchandise manager for Hallmark. "They have been perusing the 2014 ornaments online at Hallmark.com and circling their favorites in their Dream Books. They are ready to see the new collection in person and start snatching up their favorites."
At Ornament Premiere, consumers will be able to find limited-quantity ornaments and special offers, register to win an ornament, and experience unique opportunities to share stories and memories about Keepsake Ornaments at an interactive display in store and in social media using the hashtag #KeepsakeIt.
"For more than 40 years, Keepsake Ornaments have helped celebrate meaningful memories, connect loved ones, honor traditions, and reflect passions and interests," said Reid. "We want people to celebrate and share their memories with Keepsake Ornaments and be inspired by others."
Largest Keepsake Ornament Collection Yet!
The 2014 Hallmark Keepsake Ornament collection is the largest ever, with expanded categories and ornaments based on consumer requests like niece and nephew, great-grandchildren, and mom-to-be.
Consumers will also find five new first-in-series ornaments:

"Big-Top Bear" is first in the "Tin Toys" series which features crafted metal designs inspired by antique tin toys.
In the new "Marjolein's Garden" series, each of the ornaments will feature a different garden scene inspired by famed artist Marjolein Bastin.
The new "'Tis the Seasoning!" series will feature a pair of festive salt and pepper shakers.
The "Kringle and Kris" series finds Santa and his playful reindeer buddy enjoying different fun activities together.
Starting in July 2014, "A Year of Disney Magic" will introduce a new Disney character ornament each month, ending in June 2015 with "Yankee Doodle Mickey."
Other Keepsake Ornaments sure to elicit memories include the playful "Classic Turtle Sandbox," My Little Pony™ character "Cotton Candy™," and the 1970 Buick® GSX™. Favorite characters and scenes from classics like The Wizard Of Oz™, National Lampoon's Christmas Vacation, and The Brady Bunch all make appearances in the 2014 line. Many of this year's popular movies also are represented, including Godzilla, Transformers, The Amazing Spider-Man 2, and "out of this world" perennial favorites from Star Wars™ and Star Trek.
Guaranteed to Melt Hearts
A late-breaking addition to the 2014 Keepsake Ornament line will be "Queen Elsa" from Disney's smash-hit movie Frozen. "Queen Elsa" will be available in Hallmark Gold Crown stores beginning Nov. 7, 2014. Elsa will join a Keepsake Ornament of the lovable snowman "Olaf" that will be available in October. These popular characters are sure to capture Frozen moments for many fans to display on this year's tree.
About Hallmark Keepsake Ornaments:
In 1973, when Hallmark introduced six glass ball ornaments and 12 yarn figures as the first collection of Hallmark Keepsake Ornaments, a new tradition of Christmas decorating was started and a new collectible industry was born. When the first line was introduced, they were unique in design, year-dated, and available only for a limited time – innovations in the world of ornaments. Since 1973, Hallmark has introduced more than 8,000 different Keepsakes Ornaments and more than 100 ornament series, groups of ornaments that share a specific theme.
Today's Keepsake Ornaments reflect the way styles, materials, formats, and technology have expanded since they first appeared in Hallmark stores. Once a collection of decorated glass balls and yarn figures, Keepsake Ornaments are now made in a wide array of wood, glass, metal, porcelain, and handcrafted formats. Technology has also been incorporated into the world of Keepsake Ornaments through light, sound, and motion. The one thing that hasn't changed, however, is the superior craftsmanship and high quality that ensures Keepsake Ornaments will become family heirlooms and cherished collectibles.